Watch Jonah Hill and Jimmy Fallon Sum Up the '90s in 2 Minutes Flat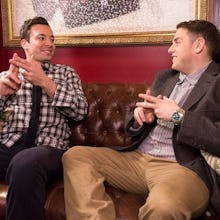 Jimmy Fallon has hit the ground running as the new host of the Tonight Show. Wednesday night's sketch, where Fallon and guest Jonah Hill used Twitter hashtags to race through pop culture references from the 1990s to today, was solid evidence.
The sketch was also a throwback to Fallon's first hashtag sketch with Justin Timberlake on Late Night with Jimmy Fallon, but it was infinitely better than the original.
Fallon and Hill crammed so many references into their two-minute sketch that it's hard to pick up on every single one, but there are some nostalgic standouts. Fallon did a striking impression of Alan Rickman as Snape. Hill belted out the Friends theme song after exclaiming, "Can you believe 1994 was 20 years ago? That's when Friends came out!" Both Fallon and Hill payed tribute to Snoop Dogg with a rendition of "Gin and Juice." And to end the sketch with a bang (or two), director Martin Scorsese and musician Questlove entered the room for a bit of banter.
The sketch represents Fallon's uncanny ability to appeal to an incredibly broad audience while consistently making sketches that go mega-viral. He gets the younger audience, also known as "Hashtag Nation," and the older audience with his insane command of nostalgia culture.
This mash-up of old and new has become a signature move for Fallon who, on his debut night, did a sketch on the Evolution of Hip-Hop Dancing with Will Smith and a ragtime version of R. Kelly's "Ignition (Remix)." Fallon has honed in on the Tonight Show's role in today's TV landscape. It's not only a talk show, but it's also a hub for all things pop culture. Just a few episodes in, he's completely proven himself worthy of the show.