Watch Viral Video From Ukraine That Paints the Protests in a Whole New Light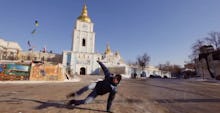 The news: Gosia Molska and Leszek Molski are Polish filmmakers who spent the early days of 2014 documenting the ongoing protests in Kiev, Ukraine. They asked protesters a simple question: "What would you need to feel happy?" Then they filmed the demonstrators dancing, set the footage to Pharrell's Oscar-nominated song "Happy," and interspersed it with images of the brutal government crackdown.
The result is a sobering short that captures the irony, hope, and beauty of fighting for happiness in the face of overwhelming dissatisfaction:
"To be happy I need the Ukraine to be free," said one woman. "Truly democratic… a land of prosperity."
"Where there's freedom, there's happiness," added an older man.
"If only I could see those boys who died so unfairly," said another man, "then I would be happy."
"I am here for the sake of future generations, not for myself," said a young man wearing a mask. "I may be killed. I will fight for as long as I can for a better tomorrow."
But will happiness come soon enough? The Ukrainian capitol of Kiev is undergoing "the bloodiest [protests] the country has seen" since independence from the former USSR. 
Demonstrations began nearly three months ago, when Ukrainian President Viktor Yanukovych rejected an economic deal with the European Union in favor of one with Russia. People took to the streets to oppose the decision, and have repeatedly been met with brutal government resistance. Earlier this week, armed riot police stormed a large protest camp in central Kiev, launching stun grenades and spraying people with water cannons. Meanwhile, protesters around the country have begun seizing arms depots and municipal buildings.
The night is darkest before the dawn. In light of these developments, the somber goodwill exhibited in the "Happy" video feels like a distant memory. One can only hope a swift and satisfactory resolution is reached before more lives are lost.