5 Years Ago, This Is What the WhatsApp Founder Tweeted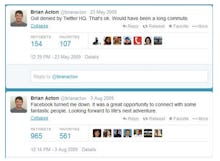 Rejection is hard. Whether it's in life, love or business, being told "no" is never easy. But the real test is how we react to that rejection, how we pick ourselves up and move forward. Hearing about how people do deal with rejection and move forward can be one of the most useful lessons for young entrepreneurs. And with the recent announcement that Facebook Inc. will be purchasing the mobile messaging app WhatsApp for $19 billion, we get to inspirational story of WhatsApp co-founder Brian Acton.
Check out these tweets Acton sent out back in 2009. 
While either of those jobs could have been real game-changers for Acton, he didn't let the rejection get him down. He and former Yahoo! coworker Jan Koum (now WhatsApp's CEO) got together and made something of their own. Though the duo started small, by October 2011, WhatsApp users were sending 1 billion messages a day, by August 2012, that rose to 10 billion a day. In a December 2013 blog post, WhatsApp said they had 400 million active users on the app every month. Talk about a comeback!
Though such an amazing success story isn't the norm for many businesses and entrepreneurs — in fact, it's a bit of an anomaly — it still gives hope that through hard work and perseverance, success can come even when you least expect it. 
Perhaps George Takei best summed it up on his Facebook page:
"To those who didn't land the job, take heart. These are tweets from a fellow who applied but was rejected for jobs at both Facebook and Twitter. Four years later, and he sells his company WhatsApp to FB for $16 billion in cash and stock, plus another $3bil in restricted stock. Everyone loves a good comeback story."