Why Jimmy Fallon Videos Always Go Viral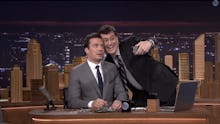 If you've been on the Internet this week, you've likely noticed that everybody is talking about Jimmy Fallon. In its first few nights, The Tonight Show Starring Jimmy Fallon has already shown competitors what the future of late night TV looks like. Turns out that, like most every industry out there, the future of late night is the Internet. And if there's one thing Jimmy Fallon understands, it's the Internet.
While Letterman, Leno and even Conan rely on the more traditional late-night format — longer monologues making fun of recent news, followed by a celebrity interview and interspersed with a few music or comedy sketches — Fallon peppers every episode with singularly creative sketches that are almost always funny because of their zany premise. As Willa Paskin pointed out in Slate, Fallon is not good at monologues. As a result, he's created another SNL with a rotating cast of actors. And it's all the better because he has the Roots and a constant stream of celebrities to collaborate with on song and dance comedy routines like the mega-viral a-capella "We Can't Stop."
Fallon immediately completely switched up the structure of the Tonight Show to reflect the viral-content strategy. Rather than have guests on only for interviews, each becomes part of Fallon's sketch comedy entourage for the night. In his first episode this week, he brought Will Smith on as a guest. Smith did an interview but, more importantly, he danced alongside Jimmy Fallon in the hilarious "History of Hip-Hop Dance" sketch. The Tonight Show YouTube channel has only 2 million subscribers. That video already has more than 6.5 million views on YouTube. The interview segments from Smith each have had more than 300,000 views. Safe to say this is a winning strategy.
The web-geared format makes for some pretty incredible musical performances, too. Instead of following the traditional format of one big performance towards the end of the episode, Fallon put two non-traditional musical numbers in the middle of the show: U2 performed a song on Rockefeller Center's roof and then did another song acoustically while sitting on Fallon's couch during the interview. This was more like a jam session than anything else, made better by the fact that Jimmy Fallon is the biggest fan boy there is.
He constantly uses his insane fandom (and the friends it brings) to create viral gold. On his first night hosting The Tonight Show, a joke about his friend owing him $100 for a bet turned into a parade of celebrities that included Robert De Niro, Tina Fey, Mariah Carey, Tracy Morgan, Kim Kardashian, Seth Rogen, Lindsay Lohan, Sarah Jessica Parker, Lady Gaga and Stephen Colbert, who finished by pouring the $100 in pennies over Fallon. That's a lot of bills, but it also earned 1.6 million views on YouTube. 
It's clear the Internet is on the writers' minds — many of the sketches are self-aware and make a point of explicitly mocking the show's focus on viral content. Wednesday night's #hashtag sketch with Jonah Hill was a huge hit, but the first #hashtag chat from Fallon's old show was with Justin Timberlake in September 2013. It now has over 21 million views. Sketches like these bring great guests onto the show, but in much more interesting contexts than the typical celebrity interview.
According to the preliminary Nielson ratings data, 20% of U.S. households watching TV at midnight watched Fallon's first Tonight Show, putting him behind just the Olympics. NBC reports that 11.3 million viewers tuned in his first night, but what's really important is that Fallon is earning almost as many views on the Internet. That's how he's changing late night TV.