Here Is the Best Time to Buy a Plane Ticket to Europe — And Every Other Continent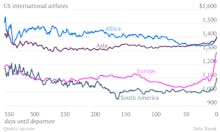 If you've already started planning a summer vacation or studyabroad semester in Europe, you might want to hold off on buying a plane ticket for a while.
While conventional wisdom suggests you shouldeither book flights far in advance or trust your luck and try scoring discounted tickets at the last minute, we now have actual data that shows the best time for booking flights to each continent.
On Tuesday, travel website Kayak released its analysis based on a year's worth of data from more than 100 million queries per month. The result? The ideal booking time differs vastly from continent to continent:
Image Credit: Quartz
According to Kayak, it's fine to book domestic flights three to seven weeks before departure. But flights to Asia are cheapest nine to 10 months out, while those to South America should be booked six months in advance. Those traveling to Europe or Central America can wait until two months before their trips.
But what about the procrastinators and spontaneous travelers amongst us? Fares to Africa are cheapest around a month out, while Caribbean flights should actually be booked only two or three weeks in advance. "It's a great last-minute destination," adds the Kayak report.
But before you decide to splurge on a spur-of-the-moment trip to Africa, keep in mind that even with the price decrease close to departure, flights to Africa (and Asia) are still more expensive than those to Europe and South America:
Image Credit: Quartz
Although fares from the U.S. to Europe "rise by 15% in the seven days before departure," it would still be cheaper to take an impromptu trip to Paris than to Cape Town.
As for ideal travel dates, Kayak suggests booking domestic departures for Fridays, international departures for Tuesdays or Wednesdays and both domestic and international returns for Mondays. Returns from Europe should be booked for Tuesdays. Meanwhile, weekend flights are usually 15% more expensive. Despite what you may have heard, "The day of the week you book doesn't make a difference in what you pay."
The cheapest travel months are January, February and April. If you must travel during summer tourist season, try waiting until August — it's 13% cheaper than traveling in June or July.
Bon voyage!