Proof the Ukraine Police Are Shooting at Protesters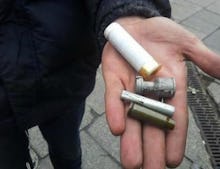 Despite a rising death count that is now over a hundred, Ukrainian President Viktor Yanukovych has been blaming the protesters for the escalation of violence in Kiev. But while protesters have been arming themselves behind barricades, Ukrainian riot police have been indiscriminately shooting into crowds — and now we have the clearest of evidence.
Violating Wednesday night's truce, armed police arrived at Independence Square on Thursday to face the protesters. The two sides exchanged bullets, though the protesters fared far worse; they claim that around hundred people died on Thursday morning alone.
But in spite of Yanukovych's best efforts, the violence is not being swept under a rug. Both news outlets and citizen journalists have been documenting the clashes and the brutal attacks by the police. On Thursday, Radio Svoboda, a U.S.-financed broadcaster based in Eastern Europe, posted this video of riot police shooting into crowds.
Warning: This video and the following content are disturbing.
Those who are on the ground have also been taking to social media to broadcast what is going on. A Ukrainian blogger posted on Facebook this video of a protester being shot on the street:
This YouTube video shows unarmed protesters being shot at by the police:
Many are also using Twitter to live-tweet what they're witnessing:
The shocking images and reports have forced world leaders to respond. "We are outraged by the images of Ukrainian security forces firing automatic weapons on their own people," said White House spokesperson Jay Carney on Thursday, adding that the U.S. and Europe would "hold those responsible for violence accountable."
If you would like to see 24/7 coverage on what's happening in Independence Square, you can watch Radio Svoboda's livestream here:
Check out the New York Times' video compilation for more footage from Kiev.