The Polar Vortex Is Coming Back With a Vengeance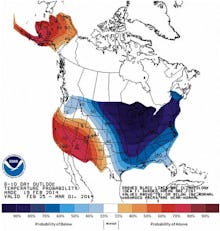 If you thought that the worst of this winter's polar vortex was over, we are very sorry to inform you that it's not — for another week, at least.
Since January's bitter-cold winds and temperatures, the polar vortex retreated to the icy tundra of northern Canada to recharge. Now, projections indicate it is ready for round two; by the middle of next week, the polar vortex is expected to make its way down the East Coast and unleash more cold winds, snow and temperatures "at least 15-20 degrees below normal." The worst of the polar vortex is supposed to pass after two to three days.
According to Weather Underground, "Temperatures 20°F below normal will likely invade the Upper Midwest on Sunday, and gradually spread southeastwards during the week. The peak cold is predicted to occur late next week, with temperatures 20 - 35° below normal covering much of the eastern 2/3 of the country."
This six-to-ten day forecast shows the expected temperatures across the country — the dark blue area indicates where it will be colder than average:
Image credit: NOAA/CPC
Perhaps to ease us into the horrifying sequel that is "The Return of the Polar Vortex: Part 2," temperatures will actually be in the 50s this weekend around New York. On Monday, they will fall to the 30s, and the tri-state area is expecting snowfall by Tuesday.
Though it may be hard to believe right now, there are actually some upsides to the polar vortex. For one, the freezing temperatures will stop the huge piles of snow and ice in the Midwest from completely thawing, "preventing the kind of major flooding that would result if all of the snowpack were to melt in a week." The harsh temperatures may have also decimated the stink bug population in the Mid-Atlantic.
If you need a refresher on what the polar vortex is, and just how cold it got this winter, watch this digital rendering by NASA:
Stay warm, everyone.