The 9 Most Totally Out-of-Control Moments on the Miley Cyrus 'Bangerz' Tour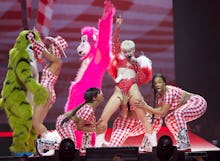 "Porn show" is just one of the many questionable phrases that have been used to describe Miley Cyrus' Bangerz tour, which kicked off on Valentine's Day in Vancouver and features 60 performances across North America and Europe. Many parents and attendees expressed outrage at the singers' sexually explicit performances, and rumors have even begun to circulate online that venues were threatening to pull out in response to the backlash.
Live Nation has reassured fans that the tour will not be cancelled, and Cyrus, for one, seems unperturbed. "You can't say I didn't warn you," the 21-year-old tweeted yesterday morning (along with a picture of her from behind in a pot-leaf thong leotard for good measure).
Earlier this month the singer said that her tour would be educational and artistic: "Even though parents probably won't think this, I think my show is educational for kids. They're going to be exposed to art most people don't know about." She also expressed hope that the performances will be "like something you would see on Madonna's tour, but ... a lot more young." Comparisons have been made (mostly by Cyrus herself) between Cyrus and Madonna before, but the question remains as to whether there's really much of a message — politically, socially or otherwise — behind the former's over-the-top performances.
Is this the downfall of modern culture? Is America in trouble? Honestly, I think we'll be fine, y'all. If her opening show — replete with crotch-rubbing, ass-slapping, fellatio-simulation, writhing and many, many thong leotards — is any indication of what can be expected for the rest of this "educational" tour, then parents are just going to have to get used to it (or lock their teenagers indoors). And because you know you're curious, check out the nine most outrageous moments so far on Cyrus' Bangerz tour.
1. Miley's faux Bill Clinton blow-job
Image Credit: Jezebel
During her "Party in the U.S.A." finale on the first show of her tour, Cyrus simulated oral sex on a person in a Bill Clinton mask. As many publications have pointed out, Cyrus was just 6 years old when the Lewinsky scandal broke. Happy President's Day!
2. Miley sliding down her own tongue
Out of the mouths of babes ... slides a thong-leotard-wearing Cyrus. 
It's worth pointing out that much of the leotard and bodysuit heavy wardrobe for the Bangerz tour was created by top fashion designer Roberto Cavalli, who has also designed tour outfits for stars like Beyoncé and the Spice Girls.
3. Miley writhing in a pot-leaf leotard
Image Credit: The Mirror
Cyrus accessorized her custom-made, rhinestone-embellished thong leotard with a large gold pot-leaf medallion. The costume, made by designers The Blonds, was inspired by "how much she enjoys the Mary Jane." 
The marijuana theme probably wasn't much of a surprise to fans and attendees, since the singer's website is adorned in large part by pot leaves.
4. Miley selling 24-karat rolling papers
Image Credit: The Cut
To complement Cyrus' outfit, available for purchase at the merch-table are 24-karat gold "Bangerz" rolling papers, manufactured by Shine Papers specially for the tour. They combine edible gold leaf with a slow-burning interior paper. But don't worry, Mom and Dad, they're made for "only legal smoking herbs." 
5. Miley miming masturbation
Image Credit: StyleCaster
Another signature Miley moment is the crotch-rub, her faux-masturbation move that first made national headlines after her VMA's performance with "Blurred Lines" singer Robin Thicke.
If there's one thing to be expected from Cyrus, it's that she's going to touch herself in front of other people. A lot.
6. Britney Spears making a "guest" appearance
Image credit: Jezebel
One of Miley's dancers, a little person, dressed in the outfit from Britney Spears' "Oops...I Did it Again" video and held a Spears mask up in the opening number to the first Bangerz concert.
Last year Cyrus received flack for using little people in her stage performances after one dancer said she felt degraded by the experience, and said she "was being looked at as a prop ... as something less than human." The move has been seen as exploitative since most of Cyrus' choices are seemingly for shock value.
7. Miley stuffing a thong in her mouth
Image Credit: Celebuzz
After a fan threw a thong onstage at a Washington show, Cyrus reportedly wrapped it around her neck and stuffed it in her mouth.
She's probably just really hungry after all that dancing, you guys.
8. Miley riding a giant hot dog
Image Credit: The Cut
Miley in the sky with hot dogs: Her own personal Wienermobile flew her around the stage during Cyrus' kickoff Valentine's Day performance. Love — and cased meat — was truly in the air.
9. Miley grinding against the Liberty Bell
Image Credit: Daily Mail
It represents like, freedom and stuff. How else are teenagers going to learn about American history?