11 Reasons Lupita Nyong'o From '12 Years a Slave' Should Win All the Awards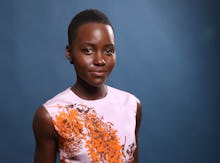 Lupita Nyong'o is up for a lot of awards for her performance in 12 Years a Slave — 76 to be exact. And there's a reason for it: she's a total badass. Though most of us are only hearing about her for the first time, she's actually been a force to be reckoned with for quite some time now.
In an effort to reveal the awesomeness that is Lupita Nyong'o, here are 11 reasons she deserves all the awards the world has to offer:
1. She's a big deal in Kenya.
Lupita Nyong'o comes from a family of over-achievers. Her father is a Kenyan senator (noted for his pro-democracy efforts) and her mother is the director of the African Cancer Foundation (she also manages her own company). So it makes perfect sense that Lupita would be ridiculously ambitious herself, earning a MFA at the Yale School of Drama.
An MFA that she was technically three weeks away from receiving when she was asked to play Patsey in 12 Years A Slave, might I add.
2. She is a fashionista.
The lovely young actress has already become a noted fashion icon. She's often on Harper Bazaar's best dressed list wearing bold colors and elegant lines: the caped Ralph Lauren, an incredible purple jump suit on Fallon (who else could pull off a purple pant suit?) and a J. Mendel strapless dress and leather bustier (that's right, a leather bustier).
But even with all the attention, she generously acknowledges the fashion assistance she received from her stylist, Micaela Erlanger. Because she's really gracious, too.
3. She's been acting for a long time.
Since the age of 5, the 30-year-old Nyong'o has wanted to be an actress. She thinks it's because her "performative" family used to put on plays for each other at family gatherings. So she took it a few steps further and auditioned for the Phoenix Players, a Kenyan production company.
And in true Nyong'o style, she made her professional acting debut as Juliet in Romeo and Juliet. So on top of everything else, she was also a Shakespearean actor. At 14.
4. She was a Kenyan soap opera star.
Image Credit: MTV
As part of MTV Base's MTV Staying Alive Ignite! initiative to spread awareness about HIV/AIDS, they aired the award-winning and controversial Kenyan soap opera Shuga: Love, Sex, Money, which featured, of course, Lupita Nyong'o as Ayira, a character developing a relationship with an older man.
The show ran for two seasons in over 40 countries and was notable for its portrayal of gender, sex, rape, HIV/AIDS and homosexuality.
5. She directs documentaries.
In 2009 Nyong'o decided to direct a documentary about Albinism in Africa because she can do anything. In my Genes is a brilliant exploration of racial constructs. Since albinism is found in all races, the idea for the documentary came from her experience in the United States and the way that the American racial experience changed her.
6. She directed a music video.
You know, if you're going to direct a documentary and star in an award-winning TV show, why not also direct a music video? A music video that would then be nominated for the 2009 Best Video award by MTVAFRICA.
7. Ralph Fiennes told her to be an actress.
Before she became a screen star, she paid her dues in other industry jobs. While home for a summer she worked on the set of Constant Gardener which was filming in Kenya. In order to get the position, she talked her way into a job as a production assistant and (obviously) got promoted to first team production assistant, where Ralph Fiennes encouraged her to become an actress.
Ralph Fiennes, everybody.
8. She thinks hugging is an integral part of acting.
During the filming of 12 Years a Slave, Nyong'o had trouble sleeping. Kind of makes sense given her involvement in scenes like the visceral whipping episode with Michael Fassbender. In talking about the scene, Nyong'o said, "It's all about the crack of the whip. You hear it. And you feel it. I felt the wind of it every single time. I didn't need much more."
So, in an effort to calm the effect of the intensely emotional scenes, Fassbender and Nyong'o would hug before and after each take.
9. She's probably going to win all the awards anyways.
This is an important list, but really the world doesn't need any convincing. Everybody is on team Nyong'o.
So far, almost everybody has been enthralled with the talented young woman. She's already won 42 awards for her role as Patsey in 12 Years a Slave. Plus, she earned 34 nominations for a total of 76 overall, and awards season isn't even over yet.
10. She gives amazing interviews.
Not to pick on anyone here (cough: Kristen Stewart), not every actor can hold up under unscripted scrutiny. However, with customary grace, Nyong'o is remarkably eloquent during interviews, which tend to highlight her dedication, education and her soft-spoken, delicate accent. 
11. She's an amazing singer.
She can do literally anything.