The Top-Selling Music Artist From Each State — Mapped, and With Surprising Results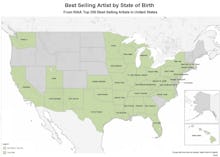 This will make you either beam with pride or bow your head in shame. Either way, it's bound to spark discussion.
A Redditor with the screen name "Ooosh-E" put together a map labeling each U.S. state with the name of the top-selling music artist born there. Check it out:
Image credit: Reddit
There are a few surprises, foremost of which is smooth jazz saxophonist Kenny G outselling Seattle's hometown grunge heroes Nirvana, out of Washington. And who knew Bette Midler was Hawaiian?
Otherwise, the genre breakdown heavily favors country artists like Kenny Rogers, Garth Brooks, and Sheryl Crow, while R&B is represented by just three acts nationwide: R. Kelly of Illinois, Toni Braxton of Maryland, and Boyz II Men out of Pennsylvania. Michael Jackson, Prince, and Madonna are no-brainers in their respective home states of Indiana, Minnesota, and Michigan. But hip-hop acts are bestsellers for just one state: New Kids on the Block, from Massachusetts.
This data is a good start, but it's incomplete. Ooosh-E determined these names by referencing the Recording Industry Association of America's (RIAA) top 250 bestselling artists, then figuring out their origins. This is presumably why some of the states, like Oregon, Maine, Nevada, and Alaska, remain blank– because none of their native artists cracked the top 250. This obviously doesn't mean these states lack high-selling artists, it just means there's more work to be done.
But, if nothing else, this map finally settles the long-running debate of where John Denver is actually from. It's not Colorado, folks – he was born in Roswell, New Mexico.