In a Win for the Protesters, Ukraine President Agrees to an Early Election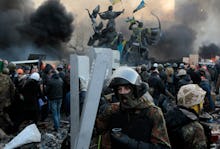 fFollowing a deadly week of clashes between protesters and the riot police in Kiev, Ukrainian President Viktor Yanukovych made a surprise concession on Friday: he has agreed to hold early presidential polls before the end of the year.
The announcement comes after a long meeting between Yanukovych and the French, German and Polish foreign ministers. Russian President Vladimir Putin also sent an envoy to the discussion, though he refused to sign the deal and flew back before the ceremony.
According to Ukrainian broadcaster ICTV, the 2004 constitution will be restored in the next 24 hours, while a coalition government is to be formed in the coming ten days. Constitutional reforms to curb presidential power and balance the executive and the legislative branches are to be immediately drafted and implemented by September. The presidential election must take place by December 2014; it was originally planned for March 2015.
"I declare steps that must be done to restore peace and avoid more victims of the confrontation," wrote Yanukovych in a statement on his official website. "As Ukrainian President and Guarantor of the Constitution, I fulfill my duty to the people, to Ukraine and to God for the sake of preservation of state, for the sake of saving the life of people, for the sake of peace in our land."
The U.S. and the EU are officially backing the deal. The Polish foreign minister tweeted out his support before the official signing:
European Council president Herman Van Rompuy also tweeted his support:
Geoffrey Pyatt, the U.S. ambassador to Ukraine, called the deal a "hopeful breakthrough."
The deal has been officially accepted by the protesters, with three opposition leaders signing it on Friday morning. But a segment of protesters, including the radical group The Right Wing, have indicated that they do not accept the deal and that they will continue to fight until the government steps down.
The meeting took place after the bloodiest day of fighting between the protesters and the government forces, with over 100 people reportedly dead after Thursday morning's attacks. Even during the deal signing, riot police patrolled through the parliament.
A clause in the deal will also launch an investigation into the use of violent tactics by the riot police. The EU has agreed on targeted sanctions against members of the Ukrainian government, while the U.S. already revoked certain officials' visas. It has also suggested willingness to enact sanctions against those officials who are found guilty of enabling violence.
An official translation of the deal has been posted by the German ministry here.