This is Kurt Vonnegut's Brilliant Rejected Thesis From the University of Chicago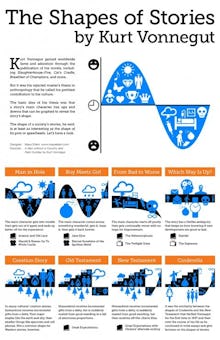 Legendary author Kurt Vonnegut (1922-2007) was best known for his imaginative satire, darkly humorous prose and, most importantly, the glowing humanity he brought to all his work. But according to him – as stated in his autobiographical Palm Sunday – his "prettiest contribution" to the culture was his rejected master's thesis. A University of Chicago anthropology student at the time, Vonnegut claimed his professors spurned the project because "it was so simple and looked like too much fun."
What was it? A series of graphs visualizing how popular storylines are shaped:
by Maya Eilam
Definitely too much fun. Designer Maya Eilam assembled this graphic version of Vonnegut's concept, charting familiar narratives like "Boy Meets Girl" and the "Cinderella" story. Vonnegut explains "the Shapes of Stories" more thoroughly in this lecture segment:
Why is this important? In the course of this work, Vonnegut uncovered something fascinating: the striking similarities between seemingly unrelated narratives. "Cinderella," for example, follows an arc identical to the New Testament, with protagonists receiving incremental gifts from on high before the rug is yanked from beneath them, culminating in a final climb to redemptive salvation.
These similarities grant insight into how we preserve culture and effectively share ideas. The ability to recognize such shapes can make us all better rhetoricians, critical thinkers, and interpersonal communicators. And thanks to Vonnegut, we now have visual evidence of how it all breaks down.