Barack Obama Is Weirdly the Face of Contraband Viagra Sold in Pakistan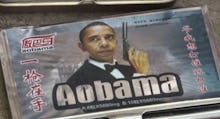 President Barack Obama's ratings are still in the dumps, but it seems as though he may have a new career lined up after his term — in Pakistan, of all places. Across the country, the president's likeness is being used to sell an unlikely product: black market Viagra.
Packages of contraband Viagra in Pakistan now feature of Obama in various poses: looking presidential, giving a thumbs-up sign or dressed up as James Bond.:
Image credit: YouTube
Viagra is officially banned in Pakistan, though imitation pills are smuggled from Afghanistan and sold for just $1 for four tablets. The Obama- branded packages are especially common in the city of conservative Muslim city of Peshawar, which is 200 miles from the Afghan border.
Though the pills have become very popular throughout the region — and widely sold in pharmacies and drug stores — they are cheap knock-offs with potentially harmful chemical additives, and may lead to dangerous side effects. Some men have reportedly been paralyzed because of the pills.
But men — especially young men — are flocking to get their hands on the drug, and with a steady supply coming from across the border, it seems that the trend is likely to continue. There's no telling how Obama has become the symbol of masculinity in Pakistan, but if he is concerned about his retirement plans, he should trademark the "Aobama" image while he can. If he wants to leave the political game, there is a business empire to be made here.