These Are the Happiest States in America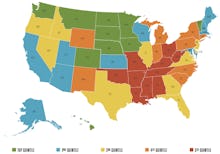 Gallup has published its annual ranking of the happiest states in America — and the winner may just surprise you.
For four years running, Hawaii has enjoyed the top spot, which is easy to imagine. The sunny beaches and inviting palm trees would paint an ideal landscape for almost anyone. But this year, the honor goes to North Dakota, with its wide plains and fields. In comparison, Hawaii dropped to eighth place.
Here is a map that illustrates the quintile ranking of different states:
As you can see, the Northern Plains and the Midwest did very well, with the vast majority of respondents reporting their happiness. Hawaii and Vermont's happiness are outliers in their respective regions.
So just how did North Dakota win the race? Gallup's Well-Being Index takes a variety of factors into consideration: the respondents' self-evaluation, mental and physical health of the residents, work environments and access to government resources and infrastructure.
According to the Gallup study, North Dakota topped the work environment and physical health categories, although it had low scores for healthy behaviors and basic access to resources. The high scores may also be attributed to North Dakota's job boom and its growing oil industry.
Here is another map that emphasizes the state happiness rankings by relative size (bigger states are happier):
The survey took place over the past year with over 178,000 participants from across the country taking part in random phone surveys.
Check out the full, detailed ranking below:
Image credits (all): Gallup
How well did your state do in comparison?