Was There a Conspiracy at Yesterday's Women's Skating Event? The Scandal Has Gone Global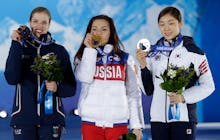 Out of all Olympic sports, figure skating faces the most scrutiny for its results; because the athletes are scored subjectively by a panel of judges, there is always room to cry foul or accuse countries of corruption.
In the case of Thursday night's women's final, however, people are not limiting their suspicion to hushed whispers — news outlets and bloggers alike are loudly asking the question: Was the competition fixed?
After defending champion and fan favorite Yuna Kim of South Korea was defeated in a surprise upset by the 17-year-old Adelina Sotnikova of Russia, the New York Times' headline read, "Adelina Sotnikova's Upset Victory is Hard to Figure." The Washington Post had a more straightforward accusation: "Did Adelina Sotnikova Beat Kim Yu-Na Because of "Russiaflation?'" the headline asked.
Image credit: AP
Kim's 1.7 million supporters are not the only ones who are angry: fellow competitor Ashley Wagner of Team USA, has also spoken out against the judging (she scored below the 15-year-old Russian skater Yulia Lipnitskaya, who fell during both the short program and the free skate).
And many believe that the accusation of conspiracy carries some serious weight. As many media outlets have pointed out, two of the panel judges had suspect backgrounds: one is "the wife of the former president and current general director of the Russian figure skating federation," while the other "was suspended for a year for trying to fix an event at the 1998 Winter Olympics in Nagano," according to USA Today. The second judge was caught after a Canadian peer tape-recorded him in the act.
The charges of corruption are also easy to make because since the 2002 voting-trade scandal in Salt Lake City, skaters are anonymously scored "to make the sport more objective and less susceptible to corruption." But critics see it as a backwards step that allows corrupt judges to hide behind their anonymous evaluation sheets; as eagle-eyed bloggers have pointed out, Kim received a 0 for one of her jumps, despite skating a universally-praised program — and there is no way to find out who awarded the damning score.
Image credit: AP
The Sochi Olympics has already been dealing with another figure skating scandal: after the Canadian ice dancing pair Tessa Virtue and Scott Moir were defeated by the American champs Meryl Davis and Charlie White, the international press was awash with rumors that the U.S. and Russia conspired to give the team competition to Russia and the ice dance competition to the U.S.
The international skating community has rallied around Kim, with both current and former athletes calling for an investigation or at least an explanation for what happened. But the issue has caught fire in Kim's native South Korea, where she is beloved as a national hero (the competition was aired in train stations and public buildings so everyone could catch it). The Korean media has gone into hyperdrive, accusing Russian President Vladimir Putin of fixing the competition and warning Russia to wait until 2018 — when the Korean city of Pyeongchang hosts the Winter Olympics.
Image credit: AP
The International Olympic Committee has been quick to downplay the corruption rumors, though it said it was open to an investigation if a formal complaint was made. "At this stage, I think we're discussing purely hypothetical things and my personal point of view would be to congratulate a fantastic performance," spokesperson Mark Adams said.
Regardless of the results of a potential investigation, the travesty here is not just the fact that Kim lost, but that the international skating federation has lost so much credibility from both professional skaters and casual fans. There is no denying that Sotnikova skated an excellent program — but now her victory is tainted by these accusations, whether they are true or not (Sotnikova abruptly left her press conference after she was asked about the corruption rumors).
Image credit: AP
It's also sad to see this scandal mark the end of Kim's career. The 23-year-old is widely considered one of the best skaters in history; though she gracefully accepted her defeat and announced her retirement after the competition, her final international game is now forever mired in controversy.
If anything positive could come out of this uproar, it would be a reexamination of figure skating's hopelessly complicated and obfuscated judging system. Both the athletes and the fans deserve a transparent process that does the sport justice.