13 Legendary Movies That Never Got Nominated for the Oscars They Deserved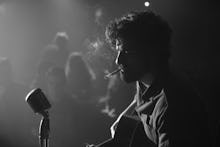 When the 2014 Academy Award nominations were announced, the biggest shock was that Inside Llewyn Davis was almost completely shut out despite receiving some of the best reviews of the year. But that might not be such a bad thing.
This may well be due to the film's brilliant subtlety and unremitting darkness, but it's unfair that such a brilliant film should go unrecognized. It turns out, though, that there's a historical precedent for this. Many of the movies that we think of as our nation's most important films were shut out of even a Best Picture nomination in their day because they were either too dark, too weird or too ahead of their time.
Here are 13 classics that were wrongfully ignored before totally showing the Academy up:
1. 'Singin' in the Rain' (1952)
You don't have to watch Singin' in the Rain to recognize its cultural impact as one of the smartest, most joyful films of all time. Yet it couldn't even get a nomination in 1952, perhaps because it completely skewered Hollywood politics.
Still, it's widely recognized as one of the most classic films of all time, and remains beloved by many. You'd be hard-pressed to find people who feel the same about that year's winner, The Greatest Show on Earth. 
2. 'Rebel Without a Cause' (1955)
The most iconic role in James Dean's tragically short career was barely a blip on the Academy's radar. During a time when Hollywood seemed fairly out of touch with America's youth generation, Rebel Without a Cause offered one of the most brutally honest portrayals of teenage isolation in all of cinema that is just as emotionally effective today as it was in 1955.
That year, the Oscar went to feel-good flick Marty. But nobody studies the use of color in that year's actual Best Picture winner in any high school film analysis classes today. 
3. 'The Searchers' (1956)
Upon initial release, The Searchers received mixed reviews and bombed at the box office, so in 1956 this probably didn't feel like much of a snub. But now the film is considered one of the best American movies ever made.
4. 'Some Like It Hot' (1959)
Comedy has always been unfairly overlooked by the Oscars. You think maybe they would take an exception for Billy Wilder's Some Like It Hot, which the American Film Institute hailed as the funniest movie of all time. Still, its status as comedy finally sunk it, and it'll do the same for Her this year, too.
5. 'Psycho' (1960)
Since Psycho first shocked audiences in 1960, Hitchcock's horror classic has inspired countless rip-offs, numerous forgotten sequels, an infamous shot-by-shot remake and a solid prequel TV series, Bates Motel.
Psycho was likely snubbed because of the Academy's inexplicable bias against Hitchcock. While one of his films, Rebecca, did win Best Picture, the master himself never won anything until he received a lifetime achievement award in 1968. That's code for "sorry we forgot to honor you sooner." 
6. 'Easy Rider' (1969)
By 1969, Hollywood had finally caught up with America's counterculture. For the first and last time ever, the Oscars gave Best Picture to an X-rated film, Midnight Cowboy. It was a radical departure seeing as Oliver! had won the big prize just a year earlier.
But when it came time to honor Easy Rider, the Academy copped out. The film was a breakthrough for independent cinema and has one of the best soundtracks ever. Try listening to "The Weight" by The Band and not thinking of Dennis Hopper and Peter Fonda riding through Monument Valley. Plus, Easy Rider launched the career of Jack Nicholson. You might have heard of him. 
7. 'Blazing Saddles' (1974)
Mel Brooks' classic Blazing Saddles might have been too blasphemous to be placed amongst the likes of cosmically serious fare like The Godfather Part II and Chinatown that year.
But while some "shocking" movies lose their shock value as society becomes more open, Blazing Saddles actually feels like it never would have been made today. It's more or less the gold standard for satire.
8. 'Full Metal Jacket' (1987)
Full Metal Jacket was not a major awards contender because of bad timing: It came out at the tail end of a long line of films about Vietnam including Apocalypse Now and Platoon, the latter of which won Best Picture a year earlier.
Now, Full Metal Jacket is acknowledged as one of the best (and most quotable) war films of all time. Platoon has failed even to approach its legacy.
9. 'Do the Right Thing' (1989)
Films about America's history with racism often prove popular with Oscar voters. Spike Lee's Do the Right Thing snuck by with a few nominations, but was shut out of the top category. Do the Right Thing might have been too brash for voters who probably weren't listening to Public Enemy on their giant boomboxes. Part of the reason that Do the Right Thing has stuck around for so long, though, is the same reason it wasn't palatable for the Academy: it doesn't provide any easy answers.
Years later, the Academy would award Best Picture to Crash, another film dealing with modern racism. The message sent by that win is that if you are going to deal with a difficult topic, it better end with a simplistic message.  
10. 'Dazed and Confused' (1993)
Unless you use historical precedent, this stoner comedy classic doesn't seem like an Oscar contender. But in 1973, American Graffiti came out and received a nomination for Best Picture. The films are counterparts: Both are era-specific (1962 and 1976, respectively) and tell interlocking stories about various teenagers over the course of a single day. And, of course, Dazed provided this great quote about high school girls — an early sign of the McConnaissance.
11. 'Toy Story' (1995)
Many films will end up with a Best Picture nomination simply because their technical achievements pushed the medium forward upon their release. For instance, Academy members were likely more enchanted by Avatar''s groundbreaking use of 3-D than by its actual story.
But the rule didn't hold for Toy Story. It was the great leap forward that computer animation needed. It began Pixar's long winning streak, but it couldn't beat the Academy's history of neglecting animated films. Fifteen years later, Toy Story 3 would become only the third animated film to be nominated for Best Picture.
12. 'Almost Famous' (2000)
Fans of Almost Famous can take solace in the fact that Cameron Crowe won Best Original Screenplay and Kate Hudson was nominated for playing everyone's favorite groupie. But the film itself got snubbed, despite a Best Picture win at the Golden Globes.
Either way, Almost Famous is today regarded as a classic, and it even made it onto Roger Ebert's list of the 10 best films of the decade.
13. 'Pan's Labyrinth' (2006)
The Academy is often gracious to foreign films. In the past decade or so, the likes of Crouching Tiger, Hidden Dragon, Life is Beautiful and Amour have been nominated both for Best Foreign Film and Best Picture.
Pan's Labyrinth, inexplicably, had no such luck. This epic about the Spanish Civil War that combines brutal realism with fantasy is a masterpiece, as stunning and startling today as it was when it was first released. Pan's Labyrinth also lost the award for Best Foreign Language Film that year. It might take time, but eventually Guillermo del Toro will be rewarded for his incredibly detailed imagination. Just as Llewyn Davis will someday receive its due.