Rocco's Pizzeria Stands Up to Arizona's Anti-Gay Bill With a Powerful Takedown of Their Own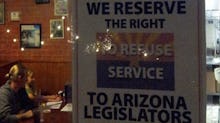 After the Arizona state legislature passed Bill 1062 this week, the controversial "right to discriminate" bill, one Arizona pizzeria decided to stand up to this harsh law. 
In its simplest form, Bill 1062 allow businesses to deny service to anyone of a different faith — mainly non-Christians — and members of the LGBT community. Although it's widely being touted as an "anti-gay" bill, the current combination of state and federal laws in Arizona means that the LGBT community's standing wouldn't see as much of a change as some people think — partially due to the state's already repressive LGBT laws. However, the bill will, almost without a doubt, dramatically increase the scope of legalized discrimination.
So to fight back, on Thursday Tuscon's Rocco's Little Chicago Pizzeria decided to do a little discriminating of their own and displayed a window sign directed at the very people who think discrimination is okay.
"A customer posted the sign to my Facebook feed, so I printed it up and laminated it," owner Anthony Rocco DiGrazia told the Huffington Post Friday in a Facebook message. "The response has been overwhelming and almost all positive from across the globe. I just want to serve dinner and own and work in a place I'm proud of. Opening the door to government-sanctioned discrimination, regardless of why, is a huge step in the wrong direction. Thanks for all the support."
Once the sign started gaining popularity, Rocco's posted the image to Facebook with the caption "Funny how just being decent is starting to seem radical these day," where it quickly went viral, gathering a cool 17,000 likes and tons of support in the form of comments and wall posts. Then, based on all the attention the pizzeria started getting, Rocco's Facebook page followed the image up with a few more well placed posted.  
Solid work Rocco's. You're doing us all proud.