One of the World's Most Wanted Criminals Has Finally Been Captured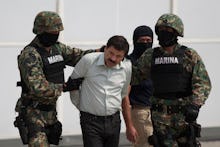 After 13 years on the run, Mexico's biggest drug cartel kingpin and one of the world's most wanted criminals, Joaquin "El Chapo" Guzman, was arrested overnight in Mexico by U.S. and Mexican federal authorities on Saturday.
According to CNN, Guzman, accompanied by a female, was captured in a joint operation with Mexican marines and Drug Enforcement Administration (DEA) authorities at a hotel in the beach resort of Mazatlan. The operation had been in the works for four or five weeks, according to sources. Guzman, who has long eluded authorities, faces several federal drug trafficking indictments and is on the DEA's most wanted list.
Guzman, 56, escaped from a high-security Mexican prison back in 2001, reportedly hiding in a laundry basket. Ever since then, he had avoided being caught because of his enormous power to bribe corrupt local, state and federal Mexican officials.
Guzman was partly responsible for the expansion of the Sinaloa Federation drug cartel into the territories of rival Mexican transnational criminal organizations — namely the Tijuana and Juárez cartels — which used to be the chief drug trafficking organizations in Mexico about a decade ago. Today, the two largest organizations are Guzman's Sinaloa Federation and Los Zetas, the former enforcement wing of the now almost extinct Gulf Cartel.
Guzman also helped oversee the expansion of Sinaloa Federation operations beyond Mexico, most notably drug trafficking routes into Europe and Asia. Since December, however, the Sinaloa Federation has suffered from a series of major arrests and killings, impacting the cartel wing led by Ismael "El Mayo" Zambada García. The cartel has also faced rising challenges in its areas of operations by regional crime networks as well as other transnational criminal organizations. The tempo and success of operations targeting top Sinaloa Federation leaders will severely hamper the cartel's ability to defend its operations in northwestern Mexico, possibly leading to substantial violence in several areas as rival criminal organizations seek to exploit the cartel's new vulnerabilities.
Guzman has been included in Forbes' World's Most Powerful People list since 2009. Forbes estimated his fortune to be more than $1 billion.
Stratfor analyst Scott Stewart provides a quick backdrop on Sinaloa Federation and Guzman's rise as its ultimate drug lord:
Like most of Mexico's major transnational criminal organizations, the Sinaloa Federation is led by a collection of crime bosses, each with his own network, operating under a common banner. In addition to Guzman, other notable top-tier leaders include Zambada and Juan José "El Azul" Esparragoza Moreno. These leaders guide the Sinaloa Federation's overall strategy and activity throughout Mexico, as well as its transnational operations. With Guzman now in custody, the remaining top bosses, along with several less prominent leaders, will look to maintain the Sinaloa Federation's control over Guzman's very powerful and highly lucrative network. This could spark a wave of violence throughout northwestern Mexico if internal shifts evolve into intra-cartel conflict.
A more likely source of violence — one that could occur alongside an internal Sinaloa Federation feud — would be a push by the Sinaloa Federation's rivals for control over drug trafficking operations in current Sinaloa Federation territories, including Baja California, Sonora, Durango, Chihuahua and Sinaloa states. Sinaloa Federation's rivals such as Los Zetas, Los Mazatlecos and El Cartel de Jalisco Nueva Generacion will indeed seek to capitalize on any instability caused by Guzman's arrest.
READ MORE: The Billionaire Kingpin Who Makes Osama Bin Laden Look Like An Easy Catch