Go Canada! Team Canada Takes Home Men's Hockey Gold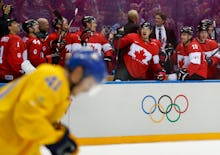 On Sunday, Team Canada became back-to-back Olympic hockey gold medal winners with a 3-0 victory over Team Sweden in Sochi's Bolshoy Ice Dome. 
After defeating Team USA in the semifinals on Friday, Canada advanced to the finals to face a Swedish team that won their game against a strong Finland team, which would later go on to defeat Team USA 5-0 on Saturday to claim the bronze medal.
Image Credit: AP
The game was defensively tight without too many penalties and solid goal tending from both sides, but Canada was able to capitalize on several of their chances, taking the lead in the first period and never looking back. Jonathan Toews, Sidney Crosby and Chris Kunitz scored goals for Canada while goalie Carey Price put on another excellent goal tending displaying, shutting out Sweden and extending the 165-minute shutout streak that's been going on since Canada's win over Latvia in the quarterfinals. 
This marks the ninth gold medal for the men's Team Canada in Olympic hockey history and the 15th overall. The Canadian women's hockey team also won gold in Sochi with a thrilling 3-2 overtime win over Team USA.
Image Credit: AP