6 Tricks to Filling Out Your Oscar Ballot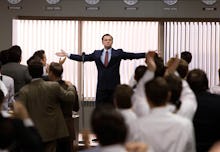 As the big day approaches, the Internet is all abuzz with Oscar predictions. It seems we, collectively, feel we know what it takes to make an Oscar-winning film. That's because, actually, we sort of do.
From prosthetic noses to Tinsletown newbies, it's no secret the Academy has its soft spots. As you prep our ballots for the 86th Annual Academy Awards on Sunday, here's how to figure out if a film is a winner:
1. Is it a drama?
Choose from one of the following content categories: Powerful Historical Narrative; Biopic; Modern Day Story of Overcoming Adversity. A drama stands the best chance of claiming Best Picture: In the last two decades, 18 of the 20 best picture winners have been dramas (2011's winner, The Artist, was arguably a romantic comedy, and 2002's Chicago was a musical-drama).
Even more strikingly, though, half of the last 20 winners have been historical dramas or biopics (including 1993's Schindler's List, 2001's A Beautiful Mind and 2010's The King's Speech). In short: Make it real, and make 'em cry. 
2. Was Martin Scorsese in any way involved?
Okay, it doesn't necessarily have to be Martin Scorsese, but there are a few directors who are more or less guaranteed a nomination and will be favored to win. Scorsese holds the most nominations (eight, with one win), while Steven Speilberg (seven nominations and two wins) comes in a close second.
The last 20 years have seemed like a rotating lineup, with Spielberg and Scorsese facing off against Woody Allen (seven nominations and one win), Clint Eastwood (four nominations and two wins) and the Coen brothers. Very recently, David O. Russell (2010's The Fighter, 2012's Silver Linings Playbook and this year's American Hustle) has been a darling of the director category — but Alfonso Cuarón is well-respected (nominated for both Y Tu Mamá También and Children of Men), and will likely take home this year's statue for Gravity.
3. Is it an adapted screenplay?
From a book? Or a stage-to-screen adaptation (like this year's August: Osage County) even? Of the last 10 Best Picture winners, six were adaptations and two of the remaining four were based on true stories (2009's The Hurt Locker and 2010's The King's Speech). This year's Best Picture Oscar will almost certainly go to 12 Years a Slave, an historical biopic based on Solomon Northup's memoir of the same title.
4. Did an actor seriously change their appearance for it?
If a film doesn't have Meryl Streep (with 18 best actress or best supporting actress nominations and three wins), the next biggest sign that a film is going to take off is that the lead became unrecognizable for the role: Think Tom Hanks in Philadelphia (1993), Hillary Swank in Million Dollar Baby (2004), Christian Bale in The Fighter, Natalie Portman in Black Swan (2010) and Anne Hathaway in Les Miserables.
This is especially true if the role is also the subject of a biopic (Charlize Theron gained 30 pounds for her portrayal of serial killer Aileen Wournos in 2003's Monster; Nicole Kidman wore a very effective prosthetic nose as Virginia Woolf in 2002's The Hours) — in other words, Matthew McConaughey (who lost nearly 50 pounds to play AIDS victim Ron Woodruff) has this one in the bag. 
5. Is there a relative unknown in a supporting role?
The Academy loves when an actor or actress "bursts onto the scene" in a "breakout performance." This year, Lupita Nyong'o has been the most buzzed-about celebrity at the awards shows; while she's up against some serious competition in her category, her presence helps 12 Years a Slave gain momentum (just as Barkhad Abdi's helps Captain Phillips).
Although she didn't win in 2010, Jennifer Lawrence was catapulted to A-List status after Winter's Bone. Jeremy Renner, who had worked in television for over a decade, was lesser-known until his Oscar-nominated performance in 2008's The Hurt Locker. Even Jared Leto has enjoyed newcomer status this season, after a five-year hiatus from acting to focus on his music career (he's a lock).
6. Was it made on a small budget?
A big budget doesn't necessarily mean a big bounty during awards season. While James Cameron's Avatar and Titanic pulled in a combined 23 nominations (nine for Avatar and 14 for Titanic), the most expensive films are traditionally not the most lauded: the Pirates of the Caribbean and Harry Potter series dominate the most-expensive list, but neither is known for critical reception.
Slumdog Millionaire and The Hurt Locker, on the other hand, were made for $15 million each, Brokeback Mountain for $14 million and last year's Beasts of the Southern Wild for just $1.8 million (Avatar, by contrast, cost $237 million).
In short: Big-budget blockbusters might make money, but underdog indies win awards. And if you're in the business of betting on awards, then this list is a good start.