7 Reasons Why Your Next Trip Should Be to Tel Aviv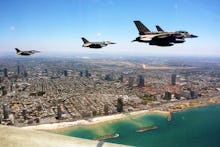 When picturing Israel, it's easy to immediately associate with Jerusalem and all the turmoil, uproar and conflicting ideologies that dominate headlines. But a 45-minute bus ride from the capital will take you to Tel Aviv, a bustling cosmopolitan city situated on the Mediterranean coastline. While most tourists find the city to be a convenient place to fit in a beach day, Tel Aviv is a rising metropolis for art, food, fashion and nightlife.
While Tel Aviv may seem like a secular world completely detached from Israel, it is still part of a country at war. Palestinians are prevented by law from living in the "lands of Israel" and would find it very hard to move to Tel Aviv. The city has also endured over a dozen suicide bombings and terrorist attacks since its inception, including an al-Qaida plot recently uncovered by the Israeli service to attack the U.S. Embassy in Tel Aviv. 
Despite the turbulent and ongoing threats, people in Tel Aviv seem to breeze through life completely unfazed by the manic country in which they live. The bustling streets are filled with a vibrant intellectual scene that is the perfect cure to the quarter-life funk that plagues most 20-somethings. 
So if you're looking for a place to put down roots for a while, here are a few reasons why Tel Aviv should top your list: 
1. There's a night dedicated to partying.
Tel Aviv is already known for its heavy party scene. Locals tend to flock to bars and nightclubs along the port almost every night, but once a year in the summer, the clubs pour onto the streets of Tel Aviv for the annual White Night celebration. For one night, museums, galleries, restaurants, bars and clubs open their doors and keep them open until the morning to create a 24-hour party for the entire city.
It all comes to a head on Rothschild Boulevard, the heart and soul of Tel Aviv, where Israel's independence was proclaimed in 1948. 
2. It's the perfect place for expats.
If battling the language barrier issue when moving abroad is a major factor, living in Tel Aviv will be a breeze. As a multicultural city, most residents come from places like America, Australia, France and Asia. Similarly, most Israelis who live in the city are practically fluent in English. Tel Aviv also draws inspirations from other major metropolitan cities and boasts plenty of French bistros, Italian restaurants and sushi bars. 
3. It pays attention to the growing LGBT population.
Dubbed the "Manhattan of the Middle East" by the Huffington Post and voted the #1 most popular city for gay travelers in a 2012 survey by American Airlines and GayCities.com, Tel Aviv is a highly liberal city with a growing and supportive LGBT community. The city holds a gay pride parade every summer, and in January the first-ever monument was unveiled in Israel to honor gays and lesbians persecuted by the Nazis during the Holocaust. 
Though gay marriage is still not legal in Israel, gay couples who were married abroad can register as married should they choose to relocate to the country. 
4. The art scene will fill you with creativity.
Tel Aviv prides itself on providing world-class artistic activity. It is home to the Israel Philharmonic Orchestra, the Israel Opera and the Tel Aviv Museum of Art. It also hosts film festivals, high-profile movie premieres and concerts.
Most artists live in the hippy Florentine neighborhood, with its bohemian and "hipster" vibe and amazing political street art. 
5. It's a music lover's paradise.
Most bars in Tel Aviv, especially Americanized ones, encourage musicians to perform gigs nightly. Hundreds of musicians hang around the city going from street performances to live shows. Israelis are very susceptible to American music, so finding work is a breeze. 
6. It's a hub for emerging technology.
Home to Israel's stock exchange, as well as numerous high-tech businesses — including the insanely-decorated new Google headquarters — the "startup nation," as Israel is referred to, most definitely resides in Tel Aviv. For a city with over 5,000 startup companies, the need for emerging talent offers great job opportunities. 
Google has also brought Palestinian tech leaders to Tel Aviv to collaborate with Israelis in an effort to foster better business cooperation. 
7. The beach
If we're getting right down to it, who wouldn't want to live in a city that's pants-optional? Tel Aviv is basically Miami Beach with better views and slightly more Jews. The Mediterranean Sea makes for some seriously stunning beach-side sunsets and being surrounded by sandy beaches and tanned people is not a bad way to pass the days.