Banana Republic Thinks Outside the Box With Inspiring Pro-Equality Ad Campaign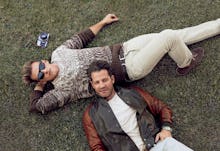 With attitudes changing rapidly about LGBT lifestyles, especially among millennials, more and more retailers are catching up by featuring LGBT people in their ad campaigns. 
Soon after Barneys commissioned a widely-praised ad campaign featuring 17 transgender models, Banana Republic is unveiling a series of print advertisements that happen to include a real-life gay couple, interior designer Nate Berkus and his fiancé Jeremiah Brent. Check out all four versions here, wherein in the photogenic couple show affection for each other while wearing the latest Banana Republic designs. 
Image Credit: Banana Republic
Berkus and Brent's inclusion is part of Banana Republic's attempt to reflect new their role as "the true outfitters of modern American style." This particular retailer, which tends to skew older, also wants to create loyal customers out of young consumers who value inclusivity. As the New York Times puts it: 
There is another reason for the presence of a same-sex couple: The ads are aimed at younger consumers, many of whom regard inclusion and diversity as intrinsic parts of their world views, and the campaign encourages them to join the ranks of the loyal older customers in Banana Republic stores.
Meanwhile, the Barneys campaign is even more progressive, putting transgender models front and center in their campaign, entitled "Brothers, Sisters, Sons & Daughters," and photographing them along with family members or other people who are a part of their "support system."
The campaign also features video of photoshoot participants talking about what it was like for them or their loved ones to transition. As quoted in Vanity Fair: 
"We're all conscious in the last couple of years of all the strides that gays and lesbians are making in marriage equality, and it seemed that the 'T' in LGBT was getting a little bit left behind," Barneys C.E.O. Mark Lee explained about why the time was right for this project.
Here's hoping that with these campaigns, featuring LGBT models in mainstream advertisements becomes so normal that it no longer needs any comment.