Drones Give an Incredible Bird's-Eye View of Protests Around the World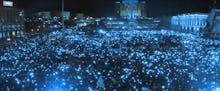 Drones are typically associated with government surveillance and police forces. But as the technology behind remotely-controlled unmanned aerial aircraft becomes cheaper and more accessible, the press and protesters have been increasingly deploying drones to record police movements and abuses. Below are some highlights of various protests around the world from Ukraine to as far as Thailand, all taken by drone.
(H/T to Drone Hire's Thomas Davis for the original compilation.)
Kiev, Ukraine: Euromaidan (Before violence)
Opposition forces fighting Russian-allied President Viktor Yanukovych's regime began protesting in November 2013, and the situation has since spiraled into a chaotic bloodbath with as many as 100 or more dead after security forces used live ammunition. Credited to Yuri Yakymets, this video shows the protests in December — well before the violence erupted.
Kiev, Ukraine: Euromaidan (During violence)
Taken the third week of February by Russia Today's Ruptly video agency, this video shows just how much Ukraine's protests have changed.
Bangkok, Thailand
A political crisis in Thailand which began last December has become increasingly violent; on Sunday, an apparent grenade explosion near an anti-government protest camp killed a woman and a four-year-old boy. Twenty-two were wounded.
The military is widely suspected to have sympathies with the protesters, and has ruled out intervention.
"Somebody has to take responsibility but that doesn't mean soldiers can intervene without working under the framework [of the law]," said army head Prayuth Chan-ocha in a televised speech.
"How can we be sure that if we use soldiers, the situation will return to peace?"
Bangkok, Thailand
This video shows Thai security forces attempting to break advancing protest lines with water cannons and tear gas. Prime Minister Yingluck Shinawatra's government was largely stable until her government proposed amnesty for her older brother and former prime minister, Thaksin Shinawatra, who fled the country after a 2006 coup and was since indicted for multiple counts of corruption.
Istanbul, Turkey
Turkish Prime Minister Recep Tayyip Erdogan's government has endured multiple rounds of protests since 2013, with mass protests in Istanbul's Taksim Gezi Park against redevelopment plans and government encroachments on Turkey's secularism. More recently, protests raged against a government bill that would allow authorities to log all Internet activity for two years.
Warsaw, Poland
This 2011 conflict on Poland's National Independence Day is turning into a yearly occurrence as beleaguered Polish riot police seek to separate nationalist right-wing protesters (ranging from the center-right to fascist activists) from their left-wing opponents. Football hooligans have also been involved in the chaos.