8 Photos Show What George W. Bush Has Been Doing Since Leaving Office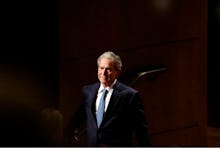 When he left office, President George W. Bush was considered amongst the worst presidents in American history. His eight year term was filled with scandal, war and economic problems, resulting in less than stellar polling numbers by his departure.
Since leaving office, Bush took some time to relax in private, but recently he's been coming back into the spotlight — and doing some pretty cool things. Today, his approval ratings have taken a favorable turn north, beating the job approval rating of President Barack Obama. 
Here's a look at some of the few things Bush has been up to in the past six years.
Spoiler Alert: He's become an all-around pretty OK guy. 
1. Taking the D out of PTSD
This week, Bush announced a new initiative to fight to take the "Disorder" out of Post-Traumatic Stress Disorder.
"We're getting rid of the D," he said. "PTS is an injury; it's not a disorder. The problem is when you call it a disorder, [veterans] don't think they can be treated."
It will be one of Bush's first serious initiative since leaving office.
"I have a duty," Bush said. "Obviously I get slightly emotional talking about our vets because I have an emotional ... I'm in there with them."
2. Continuing His Golf — But With A Cause
Bush's interest in golf has been well documented. But continuing the theme of giving back to the troops, Bush has participated in several veterans golf tournaments, like this two-day Warrior Open tournament at Las Colinas Country Club, in Irving, Texas.
3. Biking With Veterans
And if golf wasn't enough, Bush is biking too. In 2011, Bush and seven-time Tour de France winner Lance Armstrong took part in a 100 kilometer mountain bike ride with the servicemen who lost their limbs in war. 
4. Taking Trips to Africa
Bush has taken serious interest in helping people in Africa, making trips to Zambia and Botswana to talk about fighting cancer and help spread awareness. 
5. Writing "Decision Points"
In 2011, Bush released his Decision Points memoir that shed interesting light into the life of an often ridiculed and put-down president. Among the most interesting revelations in his book include that the felt "really sick" when he learned about the abuses at Abu Ghraib and "disgusted" when Kanye West called him a racist in the aftermath of Hurricane Katrina.
6. Getting Sweet With Obama
"We've been reminded of what a classy human being he and all the Bushes are," said Carl P. Leubsdorf, former Washington bureau chief of the Dallas Morning News. "Whatever he thinks of the Obama presidency, he's resisted making political comments about it like the former vice president, for example, has done. The Bushes always had good manners."
"I don't think it's good for the country to have a former president criticize his successor," Bush told Jay Leno during a visit to The Tonight Show. 
7. He's Become Quite the Painter
"Look, the signature is more valuable than the painting," Bush joked about his surprisingly well reviewed works of art. 
"I don't want to rest. I want to follow the example of 41," he said, referring to his father and former president, "sprinting to the grave."
8. Teaming Up With Clinton
As the request of President Obama, former presidents Bill Clinton and Bush teamed up to form the Clinton Bush Haiti Fund to help the nation after it suffered a devastating earthquake in 2010. The 501(c)(3) nonprofit organization formally ran from Jan. 16, 2010 through Dec. 31, 2012 and raised $544 million for long-term reconstruction which, by the Fund's estimate, sustained or created 7,350 jobs, trained 20,050 individuals and positively impacted the conditions of more than 311,000 Haitians.