This App Will Soon Detect Your Genetic Diseases — Based Only on a Picture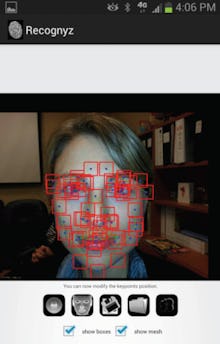 The news: Doctor Sharon Moalem, an author and geneticist, is in the process of developing something truly game-changing: an app that can detect predispositions to certain diseases based solely on a person's facial structure.
A physician and scientist with over 20 patents for health care-related inventions, Moalem wanted to develop a tool that was free and easy to use by health care workers. Moalem is in the process of finishing the app and still battling a few hurdles to make it fully functional for his proposed goals. So, in an effort to streamline its development, Moalem will be bringing his work to MIT's H@cking Medicine event, a health care-themed hackathon, where he hopes to work with others to develop the rest of the app "to take it to the next level — and ideally, arm doctors with crucial knowledge to help patients."
The background: "40 million Americans are thought to be affected by a rare disorder and it can take an average of 7 years to get to a diagnosis, with 2-3 misdiagnoses along the way," Moalem told Business Insider. "Like the fingerprints found on the tips of our fingers, we all have features or differences that makes our facial landscapes unique ... So the idea behind my app is to [simplify] facial recognition technology [and] minimize the amount of time it takes for physicians to make a diagnosis."
Moalem explained that a number of facial features can be helpful clues to signify the greater possibility of the presence of a genetic disease, many of which are more easily tackled the sooner they're diagnosed. While the app won't be able to tell you how you'll die, it will be able to "tell you if your mother drank while she was pregnant with you," according to Moalem.
Image Credit: Business Insider
Pretty cool, right? This app would be a major step forward in several aspects of science and technology. For one, the simple ability of capturing facial landmarks with a smartphone was previously thought to be too difficult. If the app is able to function the way Moalem intended, that technology could have a variety of other applications. Plus, this could be a truly life-altering app, one that could potentially save lives with the simple click of a smartphone camera.
But what's maybe more impressive about Moalem and his project is that it signifies a real recognition of the real abilities and applications of smartphones. Development of meaningful apps that can actual help people's lives could mean a whole new generation and appreciation for smartphones.