George Zimmerman Just Tweeted This to Piers Morgan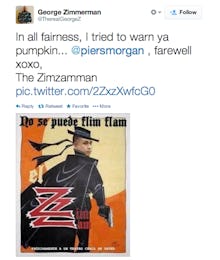 In news that should surprise absolutely no one, Piers Morgan's CNN prime-time talk show Piers Morgan Live is coming to ignominious end. This has been predictable for at least a year coming. The increasingly desperate Morgan took to tactics like organizing sham interviews such as an infamous shouting match with conspiracist Alex Jones in the wake of the Sandy Hook Elementary School massacre and trying to sensationalize even inappropriate topics like transgender rights.
Some have claimed Morgan was axed because of his support for stringent gun control. In reality his flatlining ratings had more to do with a delicious cornucopia of reasons to hate the condescending British anchor than any one political flashpoint. But that hasn't stopped another widely-disliked figure from weighing in to say it's a victory for gun rights:
Zimmerman in fact is quite active on Twitter, using his ill-obtained celebrity to push a variety of causes like his high-priced art and entrance to celebrity boxing. Writes Uproxx:
"When you get away with shooting an unarmed teenager, it's best to just shut up and stay out of the spotlight until a few news cycles pass. But not George Zimmerman, he's not that guy, so that's why he posted this tweet ..."
Of course, Zimmerman has apparently accurately calculated that fanning the flames of his detractors' post-trial outrage is the best way for him to secure a nice little nest egg going forward.
For someone who claims to be homeless and traumatized, he sure does spend a lot of time acting smug rather than considering the impact of his actions.