I'm a Woman, I Watch Porn and I Support the Duke University Porn Star.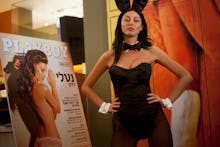 Guess what I was just doing? I was watching porn on my laptop — just like 40 million other Americans do every year. I watched this particular video for about 12 to 13 minutes, which, according to Pornhub, is just a little over the 10 minutes, 39 seconds that was the average porn viewing time for American porn watchers in 2013. (Incidentally, the U.S. has the longest porn viewing time average of any country in the world.)
In the video a young woman was having rough sex with a slightly older man. The couple were in a bedroom and they were both wearing sneakers.
And I'd like to state for the record that I enjoyed all 12 to 13 minutes of it.
For me, porn can be anything from a stress-buster to an aphrodisiac to an outlet for comic relief. (Let's face it, some of these videos have ridiculous plot lines.)
I should probably note that the video in question happens to star an actress who is also a student at Duke University. We know this because the freshman was recently "outed" by a fraternity member, exposing her side career to the rest of the Duke student body and a vicious online backlash.
Probably because it involved porn (gasp!), everyone from the New York Daily News to CNN to the Daily Beast seems to have covered the story, unfortunately making the woman at its center — referred to by the pseudonym "Lauren" — a topic of widespread discussion.
Perhaps most troubling were these comments posted on CollegiateACB, which ranged from the explicitly sexist to the overtly misogynistic, with a healthy dose of slut-shaming thrown in for good measure:
Apparently there's a common perception that a woman who acts in porn must not respect herself. How interesting — and how terribly incorrect. To all those shaming Lauren online, I've got to ask: Have you ever watched porn? Have you ever enjoyed watching a sex scene on film or perused through supermarket racks of Penthouse, Hustler or Playboy? If you answered "yes" to any of these questions, then you're probably a huge hypocrite.
We know that large numbers of Americans consume porn on a daily, weekly and monthly basis. Yet, while porn stars are routinely targeted by bullies, suspended from school or fired from their jobs, these millions of porn consumers are free to watch whatever they want, whenever they want, safe behind their steamy monitor screens. 
For those of you who haven't watched porn: That is your choice. But similarly, acting in those pornographic films is Lauren's choice and it's also frankly none of your business.
In case you were wondering, Lauren actually enjoys doing porn, and she's said so.
My experience in porn has been nothing but supportive, exciting, thrilling and empowering.
And what's more, she cares about fighting for sex workers' rights. While acknowledging that "some women don't have such a positive experience in the industry," Lauren notes that the stigma associated with their professions only makes the problem worse.
"I, like all other sex workers, want to be treated with dignity and respect," she writes. "I am going to graduate, I am going to pursue my dreams and I will hopefully galvanize change in a world wrought with gender norms and sexism. Just try to stop me."
Hopefully, Lauren's article will galvanize us to think differently about porn and change the stereotypes we've grown up with regarding porn stars. Several people beyond the sex industry have led the charge, speaking out in support of Lauren on social media.
I recently spoke about Lauren's predicament with Nica Noelle, an award-winning porn director and actress based in Los Angeles.
"It's clearly time to start having real dialogue with the public about who we are and why we do what we do," Noelle said. "Ivy league college students, white collar professionals, suburban moms and dads. We need those people to start coming out of the closet and saying 'Yes, I am in the adult industry.'"