21 Unbelievable Images Show How a Leopard Created Chaos in an Indian Village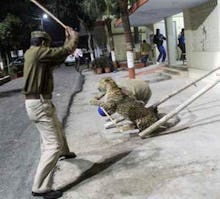 1. For the last 2 days, a wild leopard has been on the loose in the northern Indian town of Meerut.
2. The animal was first spotted in a warehouse.
A man tried to show a bit of bravado and approached, but the leopard struck and injured him on his hand.
3. This caused mass scenes of chaos among the crowd.
Though as word spread thousands of people gathered to see the spectacle for themselves, making the crowd larger.
4. Soon the police were called in.
5. Disturbed by the crowd and camera flashes, the leopard ran away in panic and jumped a wall.
6. It then managed to climb down into a hospital.
7. Fortunately, a staff member managed to lock it inside.
8. Though it was a struggle to stop the leopard escaping out the window.
9. With some reinforcements, the police managed to keep the leopard contained for several hours.
(Adapted from NWS INDIA)
(And yes, they're wearing cricket helmets for protection)
10. By nightfall, the leopard was still trapped in the hospital and the Wild Trust of India was called in to handle the situation.
11. The Indian Army also offered assistance.
12. While a large crowd continued to look on, the wildlife team tried to tranquilize the animal.
13. But the leopard managed to break through the iron grills of the window.
14. And escaped.
(Adapted from Zee News)
(Adapted from NWS INDIA)
"We used the tranquilizers three times and hit it twice," Mayukh Chatterjee of the Wildlife Trust of India told the New York Times. "He got a bit drowsy, but he was so powerful that he could break a concrete wall and jumped out. In my last 16 years of work, I have not seen such a long and powerful leopard."
15.
16.
17. The leopard certainly made its mark.
18.
19.
20. There were injuries.
Since Sunday, the leopard has injured a police official, a television news cameraman and four other residents who all got too close for comfort.
21. Some schools, hospitals and local business took precaution and remained closed the next day.
A clash of habitats: The leopard was last seen entering and exiting Vidya Laxmi Complex, a commercial center, and remains on the loose. Locals are nervous because of a string of recent incidents. Last week a leopard killed a 5-year-old child in Chhattisgarh state, and a man-eating tigress has killed at least 10 people in neighboring districts in the last two months.
These tension-filled scences are becoming more common as depletion of habitats for big cats is forcing them into populated areas. "There are many cases where human habitats are encroaching on those of big cats, which are getting lesser and lesser over the years," Jimmy Borah, Tiger Coordinator for the World Wildlife Fund (WWF) India told CNN. "The cats are forced to come out of their habitats to look for food. There is lots of habitat loss and with that food source loss -- it's one of the main problems, which is why they are coming out."
These situations are both catastrophic for wildlife and humans, and points to the importance of recognizing the impact that population growth and development has on the neighboring environment. Big cats, which are increasingly under threat of extinction, live at high densities in small corridors of forested areas. As our cities continue to rapidly grow we should remember the importance of conservation. For the sake of both ourselves and our animal friends.