Meet the Rapper Determined to Take Down Hip-Hop's Lethal Drug Culture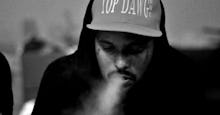 Rappers have always drawn a lot of inspiration from drugs. Weed, cocaine and liquor have been centerpieces in hip-hop since the very beginning, but lately appetites have been shifting. Prescription and club drugs, such as codeine syrup (or "lean") and the omnipresent molly ("pure" MDMA, the main ingredient in ecstasy), have moved from EDM/rave culture and to a new home in hip-hop.
In fact, they constitute a whole new genre: Molly rap. In the recent past, mentions of these drugs are rising exponentially. And it's having terrible consequences on music and fans.
Image Credit: RapGenius
Top-performing rappers like Juicy J (of hit song "Dark Horse" fame), A$AP Rocky, Rick Ross, Trinidad James and Tyga are pushing these drugs on rap, and mentions of the drugs have been increasing exponentially. But what's missing from songs like Tyga's "Molly" and A$AP Rocky's lean anthem "Wild for the Night" is the aftermath. The tracks end with the party, not with the fallout. But a stunning new rapper, ScHoolboy Q — a close friend of Kendrick Lamar — is taking a stand against drug culture on his brilliant new record OXYmoron (out Tuesday).
ScHoolboy Q has been building buzz for awhile, in part because his songs sound just as catchy as any molly rap songs — they have all the same bounce, big bass drops and drill hi-hats that define today's club-drug bangers. But ScHoolboy Q subverts those styles by undercutting the genre's happy-go-lucky, druggy feel with viciously graphic scenes that cut the glamour and portray the real dangers of life-threatening drugs. That's because ScHoolboy Q, more than most rappers, knows how bad addiction can get — he's lived it. And he can't escape it.
His song "Prescription/Oxymoron," for instance, is the most personal and disturbing track on the album. Q describes his struggle with a debilitating Oxycontin and lean addiction. He watches his body falling apart: "My chin press on my chest, my knees press the floor / I'm blanking out, woke up on the couch / Dinner on my shirt, my stomach hurts." His daughter tries to rouse in him between his verses, but he can't hear her. It's the kind of song Tyga will never write.
Considering the amount of pills and syrup most party rappers imply they take, everyone should have an experience like ScHoolboy's. But nobody is talking about it. Often, many of these rappers don't actually live the lives they rap about — they leave it to their listeners to figure it out. There have been anti-drug albums in hip-hop before — albums like Eminem's Recovery — but they've been, for the large part, didactic and clichéd. None have been as brutally honest as ScHoolboy's. None have been as necessary.
But the face of honest rap about drugs isn't quite in the clear yet. In a recent interview with Angie Martinez the rapper revealed that he can't stop taking drugs: After he finished OXYmoron, he relapsed. He even illustrated its deleterious effects on his sex drive with some standardly imaginative language: "Let's say I had Jennifer Lawrence in the room ready for me, or I had to go pick up the bottle … [inhales sharply] ... I may have to go get that pour and tell her I had to go do a show or something ... My sex life sucks right now."
So none of this is pretty, but it's honest and raw in the way the best rap has to be. Q has said he's not interested in charting or getting radio spins. He's trying to tell real stories about drugs and gangbanging, because the stories rappers are telling are "watered down" and — worse — misleading. These rappers' molly raps are anthems for lost life. And somebody needed to rap back.