GOP Lobbyist Plans to Ban Gay NFL Athletes, So Players Aren't "Forced to Shower With a Gay Man"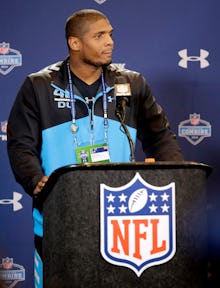 In what is sure to be a new low in the history of politically-motivated, homophobic grandstanding, a conservative D.C. lobbyist announced plans for legislation to ban gay athletes from joining the National Football League.
Jack Burkman, the founder and president of lobbying group Burkman Associates LLC, bills himself as "one of Washington's premier political consultants and strategists." Whether or not that's true, Burkman knows the art of the public relations stunt.
On Monday, in the midst of gay University of Missouri standout Michael Sam's public tryout at the NFL Scouting Combine, Burkman sent Capitol Hill blogs buzzing with a statement claiming he had somehow secured support from several (conspicuously unidentified) politicians for a bill banning gay professional football players. 
"We are losing our decency as a nation," Burkman said in a statement. "Imagine your son being forced to shower with a gay man. That's a horrifying prospect for every mom in the country. What in the world has this nation come to?"
To be fair, this is from a man who has a gay brother, yet has publicly called on parents to pull their children out of the Boy Scouts after the "establishment media" forced the organization to accept gay people. 
Burkman's blatant homophobia aside, the lobbyist's latest headline grab should be greeted with a very healthy dose of skepticism.
Over at the Daily Beast, Ben Jacobs notes that a law banning or in any other way curtailing the rights of gay NFL players would face serious constitutional scrutiny.
Speaking with the Daily Beast, Burkman did not try to hide the fact that the bill would serve as a political tool for Republican politicians considered "too liberal" in the run up to primary elections:
Burkman spelled out his coalition, saying that one senator and six members of the House of Representatives were on board, but that those numbers could expand to six senators and 36 congressmen. And, of those 42, "all but one will do this politically because they have been under fire from Tea Party and far right wing element" in their states. 
Philip Bump over at The Wire is even more dubious.
"On the face of it, the proposal is dumb," Bump noted, before questioning how Congress would even enforce such a ban.
"Burkman's real goal is actually to get people to talk about Jack Burkman," Bump concluded. "He has succeeded, so now we can all go back to not knowing who he is."