These Stunning 'Breaking Bad' Posters Remind Us Why It Was the Best Show on TV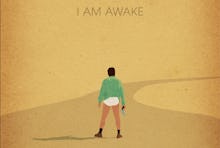 Sometimes it seems like all the hype over True Detective is just our collective attempt to come to grips with our Breaking Bad withdrawal. Hungarian graphic designer Molnar Zsolt (aka Zsutti) seems to have channeled that energy into an amazing project: He created beautiful, original posters for every single episode of the series. All 62 of them.
Like the show they honor, the posters are gorgeous and minimalist, and the series has a distinct, visual flavor. Each one features a key quote that captures the episode with an illustration to match. It's hard to imagine a better memento for one of the greatest TV series of all time.
Here are some of the most beautiful ones:
In an interview, Zsutti talked about his amazing project. "When I finished [Breaking Bad] in late September last year, I was so blown away that I felt the urge to create a memento to honor the show," he said.
"It was the most intense TV show I've ever seen. I love everything about it: the cinematography, the symbolism, the characters, the actors, the plot, the drama."
Often the posters have an uncanny knack of identifying the most emotionally salient moment of an episode. "Sometimes it was very hard to choose the main subject or even the quote. I had big fights with myself, a few episodes had alternate posters. Once I drew Jesse's wooden box but never used it." Or this bicycle that will be familiar to any fan:
And seeing the show's most brutal plot devices outside their context is extremely haunting.
Images Credit (all): Tumblr.
"I think most people (even other artists) can't appreciate how much effort and dedication it takes to produces a series of 62 posters," he said. Whether or not we'll ever know, we certainly appreciate the chance to relive this amazing series.