The Bizarre Story of How South Korea's Best Skater Won 1/4 of Russia's Gold Medals in Sochi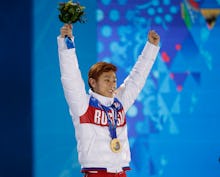 When the Sochi Olympics drew to a close on Monday, Russia was celebrating its stunning victory with 33 total medals, 13 of which were gold. But it also had a particularly shiny feather on its cap: Viktor Ahn.
The South Korea-born short track speed skater had netted four medals at Sochi: three golds and one bronze. Ahn, who had just become a Russian citizen three years ago, was now responsible for a quarter of the gold medals awarded to his new country. Combined with the four medals he won at the 2006 Turin Olympics (three gold and one bronze), Ahn currently has eight career medals, tying champ Apolo Anton Ohno's record.
In contrast, his former teammate won no medals. (Korea's five short track medals were all won by the women's team.)
Image credit: AP
So how and why did this first-rate skater leave behind his homeland to make a fresh new start in another country?
Despite his stellar record in Turin, Ahn (then known as Hyun-Soo Ahn) was unable to compete in the 2010 Vancouver Olympics due to a knee injury. Though he soon recovered afterwards, he was told that his spot on the national team, a historically strong and competitive group, had already been filled.
Unwilling to give up his career, Ahn researched into options for competing in another country, especially the U.S. and Russia. His agent, who is also his uncle, contacted Aleksei Kravtsov, the chief of the Russian speed skating federation. The Russians, who had only one speed skating medal until then, were more than willing to bring over an Olympian to boost their program. They offered Ahn a speedy citizenship process and the opportunity to become the centerpiece of the team. "So I invited them to Moscow and that is how it started," Kravtsov said.
Image credit: AP
Because South Korea does not allow dual citizenship for men, Ahn had to give up his Korean nationality to move to Russia and train for its national team. Since then, both Ahn and the Russian speed skating federation have had to field questions of whether or not Ahn was financially induced to leave Korea. In fact, Ahn's post-game press conference started with the blunt question, "Did Russia buy Viktor Ahn?"
Both Ahn and Kravtsov vehemently denied the accusation, saying instead that Ahn simply wanted another shot at the Olympics. "My goal was to compete at another Olympics so I took the decision and have no regrets about this," Ahn said.
But it seems that that explanation may be too diplomatic. Ahn's public falling-out with the Korean speed skating federation has been well-documented for years, with recent reports alleging that Ahn's coaches pushed him to let his other teammates win — even locking him in his hotel room and beating him up at one point. Sources say Ahn was told to step aside so that the team could boost its performance average and win exemptions from mandatory military service (Ahn was already exempt at that point for being an exceptional athlete).
Image credit: RIA Novosti
While some in South Korea called Ahn a defector, most have rallied against the Korean speed skating federation, which rejected such a talented athlete. The controversy has grabbed so much attention in the country that President Geun-Hye Park has gotten involved, calling for a full investigation into any "impropriety or systemic problems" that may have driven Ahn away.
"We should look back on whether Ahn's departure was due to irregularities prevalent in the (country's) sports world, including factionalism, favoritism and corrupt judges," she said.
Image credit: Wikimedia
And it seems that Ahn is fitting in nicely at his new home. President Vladimir Putin congratulated Ahn's performance: "You have given millions of supporters some moments of celebration and sincere, genuine delight at your talent, you sporting mastery and dedication," he wrote to Ahn in a statement on the Kremlin website. Prime Minister Dmitry Medvedev has promised Ahn an apartment in Moscow and $384,000 in prize money. The Russian team, which won the men's 5000m relay event, has embraced him as its leader, and Ahn plans to coach the team once he officially retires.
''This will be the best Olympics in my life,'' he said in Korean. ''I will never forget it.''