The Unlikely Way Taco Bell's New Breakfast Menu Can Jump-Start the Economy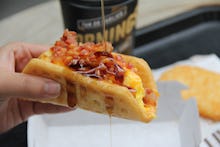 Taco Bell is known for crunchwraps, gorditas, and burritos — not eggs and waffles. Until now.
Coming March 27, all U.S. Taco Bell franchises will be rolling out their new breakfast menu in what might be a huge boost to the chain's all-star rise in the halls of American fast food.
Meet the Taco Waffle ...
The A.M. Crunchwrap ...
And the Breakfast Burrito.
Spoilers: Zero out of 10 doctors will recommend you eat these new items.
But while medical professionals might urge you to eat a salad, the new breakfast menu is just what the economist ordered. These horrible, Lovecraftian agglomerations of fat, cheese, and syrup might stop your heart dead in its tracks, they could give the economy a decent jolt.
When Taco Bell introduced the Doritos Locos taco in 2012, they did more than make eating tacos a lot messier and a little more guiltily disgusting — the resulting demand created 15,000 jobs.
The "biggest launch in Taco Bell history" resulted in the chain moving some 375 million individual Doritos Locos tacos and directly resulted in renewed plans to open over 2,000 new American stores. The alliance with Frito-Lay has paid off in dividends. 
"... What we have is proprietary and exclusive. Nobody else can make a Cool Ranch Doritos taco. And that's just in the U.S.," says CEO Greg Creed.
Taco Bell's growth rapidly outpaced competitors like KFC and McDonald's, which responded by amping up their menu in a variety of other interesting ways (remember the Double Down? Presumably, you would if you'd had one). And Taco Bell has been advertising for a long time with its "Fourthmeal" campaign, which suggests that after a long, hard day of eating other fast food products, you get out there late into the night and pick up some more tacos.
And what's bad for your belly is best for the Bell. The average Taco Bell location brings in $1.3 million in sales, higher than KFC ($957,000) or Pizza Hit ($883,000). Same-store sales grew by 8% in 2012 and 3% in 2013, while KFC and Pizza Hut saw 3% growth and a 2% contraction in the same time frames. What's more, Taco Bell has a restaurant margin (profit divided by sales) of 20%, while the average Yum! Brands chain lags at 16.9%.
And no one else is even close to challenging Taco Bell's market dominance. Competitor Del Taco has 550 U.S. restaurants. Taco Bell? More than 5,500 — and the company is confident it will hit 8,000 in the years ahead. In fact, Taco Bell seems so confident in its success that many analysts think the new offerings are a direct challenge to market leader McDonald's, which takes in around 20% of its revenue through breakfast alone.
With numbers like that, breakfast might be the first step in a battle for global dominance by the Bell. Because remember, in the future, all restaurants are Taco Bell: