A Stunning Map Pinpoints the Worst Places in the World to be Gay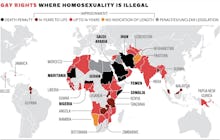 After months of debate and controversy, Ugandan president Yoweri Museveni officially signed the country's anti-gay legislation into law on Monday, charging those found guilty of "aggravated homosexuality" with life in prison.
The move is a huge backwards step not just for the country, but for all of sub-Saharan Africa, which has seen rampant homophobia in recent years due to the ongoing AIDS crisis. The fear and hatred of homosexuality in turn has created an awareness vacuum for HIV/AIDS, leading to a vicious cycle of disease and hate.
But sub-Saharan Africa is far from the only place in the world where it is dangerous to be gay. The map below, created by the International Lesbian, Gay, Bisexual, Trans and Intersex Association (ILGA), highlights the areas that have punitive measures against homosexuality:
Image credit: ILGA
As can be seen on the map, homophobic legislation is most commonly found in a bloc stretching from Africa to the Middle East and South Asia — these regions incidentally include the only countries that have death penalties for homosexuality: Iran, Saudi Arabia, Yemen, Sudan, Nigeria, Mauritania and Somalia.
Along with Uganda, the countries that punish homosexual acts with life imprisonment are Tanzania, Malaysia, Guyana and Bangladesh.
Countries outside the aforementioned bloc that enforce anti-gay laws include Jamaica, Belize, Guyana and Papua New Guinea.
"These developments go against the ideals of humanity and human rights. LGBT individuals are victimized, humiliated, violated and murdered within their own countries. Societies should be alarmed when governments legalize human rights violations," the ILGA said in a statement.