How Egypt's Turmoil Is Killing Off Its Study Abroad Programs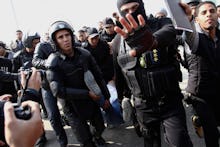 Spending a semester abroad is a way for outward looking students to become worldly, but at what point does experiencing another country become too dangerous?
Today, AUC has 14 such students, or a 96% drop.
On Jan. 30, 2011, the U.S. Department of State issued a travel warning for Egypt. The statement recommended that U.S. citizens refrain from travel to Egypt and that those already there consider leaving. Two days later, as the movement to unseat then-President Hosni Mubarak intensified, the Department of State began evacuating embassy staff and arranging exit options for U.S. citizens. Ted Purinton, AUC's associate provost, said that this is when international students began to leave.
Image Credit: AP. Early in 2011, mass protests toppled then-president Hosni Mubarak. 
Fast forward past disturbing and iconic events like the Mohamed Mahmoud protests and the Maspero massacre to the summer of 2013. Egypt's political climate got increasingly polarized as massive protests against then-President Mohamed Morsi were set to descend on Tahrir Square. The Department of State issued another travel warning, citing political violence and the May stabbing of Professor Christopher Stone of New York City's Hunter College near the U.S. embassy. Two days before millions of Egyptians publicly demanded Morsi's ouster, Andrew Pochter, a 21-year-old student from Maryland, was stabbed to death near anti-government protests in Alexandria, Egypt's second city. On the same day, the Department of State issued another warning and began to evacuate embassy staff.
Image Credit: AP. American student Andrew Pochter
Five days later, the military arrested Morsi and took the reins of power in Egypt. Tahrir Square took on an anti-American bent with signs, calling President Obama a Muslim Brotherhood supporter and a terrorist. One prominent poster demanded that U.S. Ambassador Anne Patterson "leave Egypt now and go to hell." The Department of State issued a new document, this time warning U.S. citizens in Egypt to leave.
Jamal Abed-Rabbo, a 25-year-old Ph.D. candidate, was using a Foreign Language and Area Studies (FLAS) grant to study Arabic in Cairo. With the Department of State's new warning came a message to Abed-Rabbo from the University of Chicago, his academic base. The U.S. Department of Education (DOE) was mandating that all FLAS recipients in Egypt leave the country. "Failure to comply with this order means that you forfeit the FLAS Fellowship and must repay funds," the email read.
Abed-Rabbo paid for his classes and summer rent up front and wasn't going to get the money back. He faced a tough financial decision. If he left for Jordan to continue studying Arabic, he would have to fork up more rent money. If he stayed in Egypt, he would have to pay back the grant money.
He decided to go to Jordan, but he hated it and returned to Cairo, where he could witness political events firsthand. Abed-Rabbo photographed and filmed political gatherings and discussed the political climate with locals at cafes, just as he had done before his evacuation. He continued to study Arabic, but because he did so in Cairo, he had to fork up the $3,110 he received.
Image Credit: Facebook/NCSU SAO. A student from North Carolina State University during a study abroad program in Cairo. 
Colette Ghunim, an undergraduate communications student at Northwestern University, was also evacuated. She had already completed a year at AUC as an exchange student, and she received grant money from her university to research media portrayals of street children. Not having heard from Northwestern after the Department of State's warning, Ghunim thought and hoped she had gone under the radar. But eventually the message arrived and Ghunim, 22, had to go back home. "They found me," she said. "I should have been allowed to stay."
One temporary Cairene who was evacuated says she was "privileged to leave Egypt with the relative ease that [she] did." Miriam Berger, like Abed-Rabbo and Ghunim, didn't feel unsafe.
Berger, a 24-year-old journalist from outside Philadelphia, spent a year in Cairo studying Arabic as a CASA Fellow and Fulbright scholar investigating how Egyptian newspapers were adapting to online spaces. Developing her craft as a writer, she wrote about the evacuations she herself experienced.
Although the cost of her return to the U.S. was six more months in Cairo to work on several media-related projects, she didn't complain. "The ability to leave a country with ease is not afforded to every passport holder."
Berger brought up another point: "We focus on the loss for Americans, but so much is also lost for Egyptians on the ground that worked and benefited from these programs."
Kalimat, a popular Cairo language school, has suffered greatly. A visit to the school this week found a single Norwegian student, who is shared by three Egyptian instructors. Mohamed Bakry, co-founder of Kalimat, said that before the revolution, the school had up to 60 students in the morning session alone and employed 12 teachers. Staff members now have side jobs to make ends meet. The school lost one of its two floors to a coffee shop. Bakry, 48, said that he used to teach eight to 10 hours a day and now teaches one, sometimes none. Kalimat has now lost 85% of its revenue.
Tord Ranheim (second from left), 26, is the only student present at Kalimat language school. Three teachers, Mohamed Bakry (left), Heba Barakat (second from right) and Mohammad Hares (right) share the Norwegian student. Image Credit: Christopher Reeve
Bakry turned down a teaching job at Middlebury College in Vermont four years before the revolution, but now he wishes he had accepted it.
Another cost to Egyptians is limited travel. Because American universities are not sending their students, AUC's Egyptian students do not get to study at American universities unless they pay the institutions directly. Although the overall number of foreign students has decreased in Cairo, it's largely American universities that hesitate to engage with Egypt at the moment.
AUC gets students from over 100 universities, about 70 of which have exchange partnerships with the institution. Risk assessment managers in U.S. institutions currently deem a semester in Egypt too dangerous, but European institutions are not so much. "Their tolerance for risk is a bit higher in Europe than the U.S.," AUC's Ted Purinton explained. "They understand the dynamics a little better."
Abed-Rabbo said that as he and other Americans were told to leave, his European classmates were permitted to stay.
Nura Sophia Liepsner, 22, a half American-half German undergraduate senior who grew up in Italy. She majors in Islamic studies and political science in Berlin, but she's currently spending a semester at AUC. Liepsner was supposed to come in the fall 2013 term, but she delayed her trip as the bloody images of Egypt's break-up of the major pro-Morsi sit-ins made the rounds in Germany.
Image Credit: AP. Dead Morsi supporters killed during the Rabaah Al-Adawiya massacre.
While AUC had 105 students like Liepsner the spring term before Egypt's bloody summer, about 12% came in the Fall.
Liepsner, who can be found joking with Egyptian friends between classes, said that she recommends Cairo to other foreign students as long as they avoid hotspots and remain aware of their surroundings. Liepsner has never experienced any violence in Egypt.
Miriam Berger came back to Cairo in January to celebrate another birthday here and see people she didn't get a chance to say goodbye to last summer. 
Ghunim plans to move here to work in media after she graduates. One trip to Cairo is frequently not enough.
Nura Sophia Liepsner hangs out with Egyptian friends between classes at AUC's New Cairo campus. Image Credit: Christopher Reeve