Lil' Jon's Hilarious AMA Was Just as Crazy as You'd Expect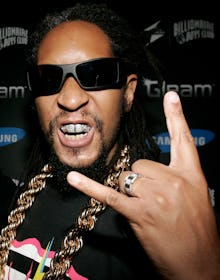 The news: 238 years of American history was validated Tuesday night when famous producer/chronic screamer Lil' Jon hosted an AMA on Reddit.
For those who don't know, "AMA" stands for "ask me anything," and gives regular slobs like you and me the opportunity to schmooze the world's coolest and most interesting people. Past examples include 74-time Jeopardy champion Ken Jennings, and someone who played a "putty" on the original Power Rangers series.
But last night was an absolute game changer. From the window to the wall, to the sweat dropping down his balls, Lil' Jon met and exceeded the utter lunacy you'd expect from a man best known for shrieking "YEAH!" and "OKAY!" at the top of his lungs.
Here are some of the highlights:
Of course it began with a promotion, written in all caps:
But it wasn't long before people started asking the tough questions:
Turns out Lil' Jon is a total sweetheart:
At one point, the inquiries got a lil' personal, IMO:
And people started chiming in to help with his answers:
But we also learned about Jon's wild Batman-esque relationship with his alter ego:
Overall, there was some sound advice:
A few fairly obvious observations:
And helpful hygiene tips:
Plus, he wisely declined this invitation from someone named "flamingdogpoo":
You will always be a legend, Lil' Jon:
And it's good to know that even if you weren't making music, you'd still be helping people through their troubles: