Switzerland Could Soon Have the World's Highest Minimum Wage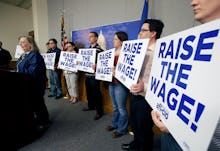 While President Barack Obama is testing the waters for raising the minimum wage in the U.S. to $10.10 an hour, Switzerland is leapfrogging us by miles: a proposed legislation will guarantee a base hourly salary of $24.80, effectively creating the highest minimum wage in the world.
Right now, Switzerland has no minimum wage, although it already enjoys the highest average monthly wage in Europe ($7,765.50). The country that currently has the highest minimum wage is Australia, which guarantees $16.91 an hour.
Swiss voters will decide on the measure through a popular referendum on May 18. The vote is supported by the Socialist Party and the Swiss union SGB, and has gained significant traction among young people. But last November, a similar Socialist-backed bill to impose a maximum wage on the wealthiest people in Switzerland was rejected by the public.
Of course, there are significant worries as to the impact of the new minimum wage on the market. The Swiss government is reportedly worried that the law would harm Switzerland's competitiveness, leading to job cuts for the very workers that the law is designed to help.
"The government is convinced it would be wrong for the state to impose a nationwide wage," said Swiss economy minister Johann Schneider-Ammann.
"A minimum wage of 4,000 francs could lead to job cuts and even threaten the existence of smaller companies, notably in retail, catering, agriculture and housekeeping," he added.
Some economists have agreed that minimum wage increases will force private businesses to raise prices, while others have countered that price hikes for big corporations would be negligible.
While Swiss workers earn a relatively high income, they also live in a very expensive country, with Zurich being the city with the highest living costs in the entire world. Here is how other cities stack up:
Image credit: Economist
In comparison, New York has fallen to a surprisingly low 47th place, with Los Angeles in 42nd place.