This Model Wants to Spark the Next Farm-to-Table Revolution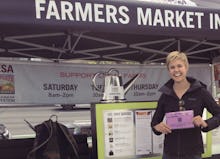 Megan Morris began freelance modeling in her early 20s as a way to fund her first startup, a 3-D animation company called MediZed. She would regularly go on casting calls, and one day decided to audition for a new reality show called America's Next Top Model.
"I went to the Metreon in San Francisco thinking there would be like 10 people, but there were thousands," she said in an interview. "Everyone was telling me that I would get on the show."
And they were right. As one of the first to be eliminated, she found the whole experience a bit jarring, and she left the show more determined than ever to pursue her passions. "It was a reminder that sometimes, you really aren't in control, and the only thing that you can control is the way that you react," she explained. "You were mic'd the whole time. There were cameras everywhere." 
As an entrepreneur, she began to call the shots. She built up a strong client base across several industries for MediZed with a focus on the medical field, helping companies relay products and concepts through animation. She discovered that she enjoyed solving problems for underserved markets.
"We custom built our creative team specifically for each project, which is something I adopted from the film production model," she said. "Sometimes I would have people from Boston or Idaho joining the team for a project because they had some unique specialty in a type of curtain wall rendering in a specialized software."
After six years, she left the company to found her next startup, Local Hero, currently in beta, which she and her team are designing to disrupt the food industry by streamlining the supply chain for chefs and farmers.
Image: Megan Morris
Essentially, LocalHero is a technology where chefs can order ingredients straight from local farmers, eliminating the need for companies like Sysco and warehouse storage. The idea is that the software creates a direct line between the two parties. 
"We want to create transparency in the food system," Morris says. "San Francisco is a big testing ground for a lot of great ideas, so we're starting here. Consumers are specifically looking for free-range or grass-fed food; I've seen how quickly the demand has gone up even this year."
She points to companies like Uber and Airbnb, which entered the market at just the right time. With the farm-to-table movement gaining speed, she is confident that the food industry is ready for disruption.
"Part of it is timing and vision and this is a problem that can't just be solved through logistics and transportation," she said. "Smart technology can take care of a lot of big problems."
To illustrate, Morris drew a picture of the typical food supply chain:
Factory farm > broker > trucking company > warehouse > broker > distributor > restaurant/grocery
And explains that it should look like this: 
Farmer > delivery > chef
"I like to start with a blank sheet of paper," she said. "Don't put up walls and barriers. If anything were possible, how would it be done? Put your goals way too high. From education to healthcare, how should we have done it? A chef should be able to access any number of farms around in palm of his hand."
Since founding two companies before age 30, she's learned a lot about startup life. "It's really important to say no to a lot of things and stay focused," says Morris. She also believes that "you need to put a lot of trust in people that they have your best interest and let down your guard. You can only put out really good things by being your best self. Others will see that in you and they will respond to that."