700,000 Europeans Die From Smoking a Year. Now The EU Is Doing Something About It.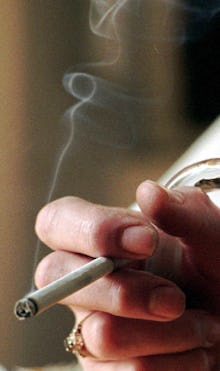 In a bold step to combat the ongoing smoking problem in the EU, the European Parliament introduced sweeping measures on Wednesday to discourage the practice.
The new EU Tobacco Products Directive will force tobacco companies to cover at least 65% of the front and back of their packages with picture warnings, with additional text warnings on top and on the sides. (The rule applies for both regular cigarettes and roll-your-own types.) 
By 2016, all 28 EU member nations must roll out graphic cigarette packaging that features "mandatory pictures of rotting teeth or cancer-infested lungs." Companies will no longer be allowed to advertise that their products are "free of additives," or they they are less harmful than other brands.
In addition, the directive introduces a maximum nicotine level for e-cigarettes, and bans flavored cigarettes and those that are marketed towards women. Lawmakers have argued that flavored cigarettes mask the taste of tobacco and make it easier for young people to become addicted. E-cigarettes have been similarly criticized for smelling better than regular cigarettes.
The legislation will also set aside funds to track illegal tobacco trade.
Until now, there has been no comprehensive EU-wide policy to combat smoking:
Image credit: ENFP
"The new rules will help to reduce the number of people who start smoking in the EU," said EU Health Commissioner Tonio Borg. "These measures put an end to products which entice children and teenagers into starting to smoke in the European Union."
According to the European Commission, "Tobacco consumption is the single largest avoidable health risk in the European Union." Around 28% of the EU population smokes, and smoking is estimated to be responsible for around 700,000 deaths a year.
The EU anticipates a 2% drop in the number of smokers in the next five years — which would amount to 2.4 million people.