Adidas' Gross Sex Tourism Shirts Perfect for Terrible People Into the World Cup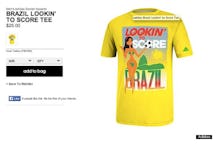 Adidas has announced it will withdraw a line of World Cup T-shirts that offended many with its stereotypical depictions of host country Brazil as a hotbed of sex, which begs the question: Who thought this was a good idea in the first place?
The shirts, seen here, were panned by critics including Brazil's Ministry of Tourism for their potential to encourage unsafe and even illegal sexual activity during this summer's tournament. One depicts a bikini-clad woman in front of a silhouette of Rio de Janeiro's Sugarloaf mountain with the words, "Lookin' to Score," while another employs a picture of a heart made to look like a woman's backside in thong.
This tastelessness makes one wonder whether Adidas has any women or Latinos at all in its marketing division. Latin American countries in particular struggle to fight long-established stereotypes ingrained in a North American society that has trouble telling them apart. Colombia is the one with drug dealers, Brazil is the one with sexy women, and Mexico is the one that the maid is from. Furthermore, these depictions just enhance the notion of the "spicy" Latina, objectified and oversexualized in the media for the purpose of pleasing Western male audiences.
Lest you think I'm being an oversensitive feminazi with no sense of humor, allow me to point out that these images don't just offend one's more progressive sensibilities — they also have real-world consequences. Sex tourism is a huge problem surrounding major sporting events, as we saw earlier this month when the Federal Bureau of Investigation rescued 16 children as young as 13 years old who were being trafficked into the New York area for the Super Bowl. The sex tourism industry has seen a particular boom in Brazil in recent years, as the country's reputation as an exotic, erotic destination has attracted visitors who patronize brothels without worrying about pesky issues like underage prostitution and sex slavery. According to the researchers at InSight Crime, reports of human trafficking in Brazil spiked by a staggering 1,500% percent in 2013, reflecting both the increase in the crime as well as the government's effort to combat it.
To read the rest of this column, please click over to Bloomberg View.