Oscars Live Stream 2014: Where to Watch Online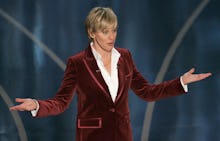 If you won't be near a TV come Sunday night, don't fear. For the first time ever the show will be live streaming (in full) online. Here are the most solid options for live streaming the Oscars telecast and the red carpet coverage.
Red Carpet Live Stream: As always, E! is all over the red carpet beat, and will begin its coverage of the big day probably before you even get up on Sunday. They'll be live streaming red carpet arrivals at E! Online starting at 5:30 EST. We'll get that stream up as soon as we can.
Show Live Stream: For the first time ever, ABC will be streaming the entire Oscars show online. It'll be available at WATCHABC, or on your phone via the WATCH ABC app. To view it, though, you'll need a cable subscription. Check the details here.