Who Is Hosting the Oscars 2014?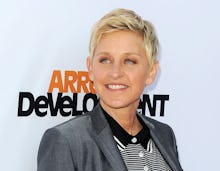 Comedian, talk show host and all–around awesome person Ellen DeGeneres will be the host of the 86th Academy Awards. 
Ellen is known for her brand of hilarious but good–spirited comedy, so expect some friendly ribbing of Hollywood. It'll be a nice break from last year's hit–or–miss, borderline offensive host, Seth MacFarlane.
This is Ellen's second time hosting the Oscars. She first hosted in 2007, the year The Departed won big, and made great jokes at Martin Scorcese's expense. Check out the fun trailer for this year's show: