This Is America's New Nutrition Label — And It Will Make You Healthier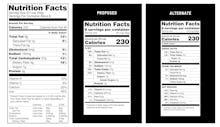 Even if you are conscious about your health, reading food labels can be a daunting and exhausting process. For the average consumer, it is rather difficult to get a sense of just how healthy or unhealthy a product is, and the serving sizes never seem to match up with normal portions.
But that is all set to change with the Food and Drug Administration (FDA)'s announcement on Thursday: For the first time in 20 years, the agency is proposing a revamping of the food label design.
The move, which has been spurred into action by First Lady Michelle Obama, will force companies to be more transparent about what exactly goes into their companies — the food and beverage lobby is expected to protest the policy.
"You as a parent and a consumer should be able to walk into your local grocery store, pick up an item off the shelf, and be able to tell whether it's good for your family," Obama said in a press release. "So this is a big deal, and it's going to make a big difference for families all across this country."
Here is a breakdown of the proposed changes:
Image credit: Business Insider
Not only is the new label simpler, but it also highlights important information that was left off the old label:
- There is more emphasis on servings per container so you can calculate the nutritional intake proportionally.
- The serving sizes are bigger and more realistic.
- There is greater focus on calories.
- "Calories from fat" is no longer included because the type of fat you consume is more important than the amount.
- The figures for "% Daily Value" will be updated and made bigger.
- There will be a new line for "Added Sugars" so you can see how much stealth sugar has been added into processed foods by the manufacturer.
- Companies will have to provide information for the "% Daily Value" of Vitamin D and potassium in each product, because the FDA estimates that "some in the U.S. population are not getting enough" of them. Alternately, Vitamins A and C can be left off.
The proposal will not be immediately implemented: the FDA has opened a 90-day comment period during which experts and the public can provide input. If the FDA does approve of the proposal, it will give manufacturing companies two years to roll out the changes.
The FDA estimates that it would cost the food and beverage industry around $2 billion to carry out the changes, though the health benefits for the country could be as much as $30 billion in the future.