Electro-Pop's Next Robyn Has Arrived With the Most Danceable Video of the Week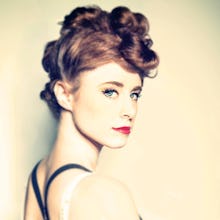 Lately, long single shots have become the domain of dark, apocalyptic films and TV shows. But up-and-coming electro-pop artist Kiesza's single-shot video for "Hideaway" is infinitely more epic and a whole lot more joyful: The former Canadian Navy trainee just released this upbeat video of ecstatic dancing alongside a gritty NYC city block. And it's time to call it: It looks like we've found our next Robyn.
The Canadian Navy may sound sort of like the daycare of Navys, but clearly Kiesza is no joke. To make the whole video even more epic, she filmed the entire thing with a broken rib from earlier that day. It was already an incredible feat, though: The 25-year-old had to learn five new dance styles to get it shot in her crew's extremely tight deadline. Obviously, she mastered them all. Canadian Navy-style.
Kiesza aside, this is definitely an improvement on standard NYC-block behavior. In addition to some ridiculously catchy hooks and tight bass line, the video is pretty much a ray of sunshine. She dances her way through New York without running into anyone distractedly texting, every guy she meets seems pretty into her and she doesn't pay for the cab she gets out of at the start of the film. We'd be dancing, too.
Kiesza hesitated right on the edge of her recruitment to the Canadian Navy and opted to pursue her music dreams instead. If this video is any indication, it was a great decision. Now, she's preparing to drop her debut EP later this year on the Lokal Legend imprint.
You'll hear from her soon.