Tesla Gigafactories Could Basically Destroy the Old Utility Business in the U.S.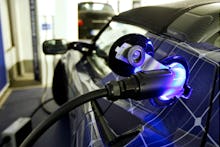 Tesla Motors is unstoppable right now. The luxury electric car company has just posted its highest share prices, with its stock increasing 20% this week after glowing financial reviews — after already increasing sevenfold just in the past year. Its sales are higher than ever, having blast past gasoline-based competitors such as Mercedes, Lexus and BMW.
The company's pull is so great that just being associated with it is enough to give other companies a push in the stock market: shares for Tesla's longtime partner Panasonic jumped up in tandem overnight, with the Japanese electronics corporation promising it is "studying every possible way to strengthen ties with Tesla."
But there is one industry that is set to suffer with Tesla's rise: power companies.
Tesla's electronic cars depend heavily on lithium-ion batteries, which are a very expensive component. But in a move towards vertical integration, Tesla CEO Elon Musk announced on Wednesday his plans for a "Gigafactory," which will pump out batteries for the company. That is good news for Tesla, but very bad news for competitors in the power market.
"The Gigafactory is designed to reduce cell costs much faster than the status quo and, by 2020, produce more lithium ion batteries annually than were produced worldwide in 2013. By the end of the first year of volume production of our mass market vehicle, we expect the Gigafactory will have driven down the per kWh cost of our battery pack by more than 30 percent," the company wrote in a press release.
With the Gigafactory, Musk will have "a wedge to basically destroy the utility business in the U.S.," according to Forbes.
Image credit: Tesla
Musk is envisioning the biggest battery factory in the world, with a $5 billion investment by Tesla, Panasonic and other partners. It has narrowed down potential factory sites to Texas, Nevada, Arizona and New Mexico, and states are reportedly already vying for the chance to host the company and bring up to 6,500 jobs to their area.
The steady power supply will allow to Tesla to manufacture "500,000 or more electric vehicles a year from a projected 35,000 this year," and essentially turn the plant into a power storage company.
But Musk is interested in much more than developing an energy supply for his cars — he wants to disrupt the power market. 
"It is a massive, massive opportunity to push the cost curve down to levels people haven't even dreamed of yet. We find investors are starting to seriously ask if Tesla can be much more than just a car manufacturer," the company wrote in a note earlier this year to clients. "If this company can establish a technological and scale lead in every storage and infrastructure, might we one day look back at Tesla's humble beginnings as a car maker much as Amazon began as a book seller?"
It's your move, power companies.