The Dalai Lama Has Joined Instagram and Here's What He's Posting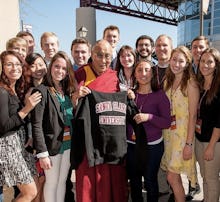 It's official, His Holiness the Dalai Lama is now on Instagram. Though his first post went out on Feb. 1, most people didn't know until HHDL's twitter account shared the news on Thursday (that's right, this is fast-paced social media — he goes by HHDL now). So far, he's posted 16 photos, including ones of him with President Obama and Larry King.
HHDL's instagram account currently has around 20,000 followers (he has roughly 8.5 million twitter followers), and you can just expect that number to keep climbing. In a recent interview with TIME, HHDL spoke about his social media influence and says he recognizes the inherent problems these technologies poses. 
"It depends on how you use them," he said regarding social media's affect on happiness. "If the person, himself or herself, has a certain inner strength, a certain confidence, then it is no problem. But if an individual's mind is weak, then there is more confusion. You can't blame technology. It depends on the user of the technology."
Luckily, you can probably bet that HHDL's mind can handle twitter and instagram and he'll be able to share more of his very interesting life with his followers. Take a look at some of what he's posted to instagram so far. 
HHDL with Larry King after their interview in Los Angeles, Calif. on Wednesday. The interview will air on Larry King Now on March 10. 
HHDL with students at Santa Clara University before taking part in a panel discussion on "Compassion and Business" in Santa Clara, Calif. on Monday.
HHDL with some of the policemen who provided security during his visit to the Tibetan Community Center in Richmond, Calif. on Feb. 23.
HHDL receiving a traditional Tibetan welcome on his arrival in San Francisco for a visit to the Bay Area on Feb. 21.
HHDL meeting with President Barack Obama in the Map Room of the White House in Washington D.C. on Feb. 21. 
HHDL with students at the American Enterprise Institute on the first day of his two day visit to Washington, D.C. on Feb. 19. 
HHDL being presented with an Honorary Doctorate of Philosophy from Martin Luther Christian University in Shillong, Meghalaya, India on Feb. 3. 
HHDL speaking to students at the Step by Step School in Noida, LCR, India on Jan. 31.