Louis C.K.'s Stoned Opinions on 'Gravity' Are the Best Critique of the Film So Far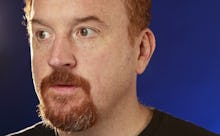 The news: Plenty have weighed in on the dubious scientific accuracy of Gravity, the space-set thriller nominated for 10 Oscars on Sunday. But comedian Louis C.K.'s take is especially refreshing – and hilarious – because it comes from an … "elevated" perspective.
Louis has made it clear that smoking weed is an ordeal for him: "I didn't understand the fucking technology that's gone into making pot so powerful," he says. "'Cause when I was a kid, you could just smoke a joint for awhile. Now you take two hits and you go insane." But he makes an exception for when he attends 3D IMAX films – and comes away with some interesting opinions.
Just listen to what he told the Opie and Anthony podcast.
I'm not sure this is the job for me. The point about Sandra Bullock's character being a "reluctant astronaut" is especially on point: "There's no such thing as someone who's like, 'Ugh. I mean, the other thing didn't work out, so now I'm an astronaut'… The greatest people alive do this. Get the fuck out of here."
He's no expert. While Louis C.K. certainly lacks the scientific pedigree of an astrophysicist like, say, Neil deGrasse Tyson, he simplifies Gravity's problems using "highly" relatable terms 
The difference is, the astrophysicist actually liked the movie.