15 Stunning Images From Ukraine's Bold Street Art Scene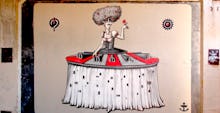 There's a lot of media attention on Ukraine right now — and rightly so. But while news outlets often focus on the violent protests, there is a beautiful side of Ukraine that we don't see enough of in the media.
Ukraine's street art culture is bold and refreshing, and showcases the powerful spirit of this nation's youth. These artists seamlessly blend Soviet influences with familiar touchstones like American hip-hop culture and Abstract Expressionism — a kind of fusion you're unlikely to see anywhere else. Here are seven stellar Ukrainian street artists you need to know.
1. Interesni Kazki
Interesni Kazki, meaning "Interesting Tales," is one of Ukraine's most well-known street art collectives. The group, which includes artists WAONE and AEC, is known for their bold, expressive imagery. Their paintings look like illustrations from a grown-up book of fairy tales, dense with implications and full of magic. Interesni Kazki is the Hieronymus Bosch of street art.
WAONE and AEC began painting together in the early 2000s, after being inspired by 1990s Kiev hip-hop culture. Traditional Ukrainian folklore also influences their work. Equal parts surrealist and spiritual, Interesni Kazki's murals confound and delight.
Image Credits: Interesni Kazki via Facebook.
2. Kislow
Aleksey Kislow, or simply Kislow as he is more often known, paints detailed murals that interact with their environment. His work is conscientious of the surface it's painted on, and often plays with windows and physicality.
Like Interesni Kazki, Kislow's forms are fantastical (as is common in Ukrainian art), but here, the narrative is clearer. These paintings have a more human element. His work may have surrealist flavors, but it is distinctly more direct.
Image Credits: Kislow via Facebook.
3. Stetskovyc
More haunted than either of the previous artists, Stetskovyc's artwork shows nude human forms in uncomfortable-looking places. The monochrome coloring and restrictive settings of his forms create a kind of moodiness and melancholy, reminiscent of Cormac McCarthy.
Stetskovyc seems to be fascinated by not just humans but humanity. His work speaks for itself.
His street art suggests that his training is in printmaking. These curvaceous lines and contouring, so critical to printmaking, add another dimension to his interpretation. His work feels old and new, both reborn and post-apocalyptic.
Image Credits: Stetskovyc via G+.
4. Victoria and Vitalina Lopukhiny
Lettering on the wall of National University of "Kyiv-Mohyla Academy" (Kyiv, Ukraine)
Kooky and amazing, sisters Victoria and Vitalina Lopukhiny have feminized the overtly masculine script tradition in street art and graffiti. Script work, the most basic form of street art/graffiti, becomes elevated in their hands.
While not primarily street artists, their work has such deep stylistic roots in graffiti culture that it would be wrong not to include them in this list. Not to mention that they've collaborated with some street art heavy-hitters on work in Ukraine. Here they are working on a beautiful mural in Kiev, with none other than WAONE of Interesni Kazki and fellow street artist Seth, of France:
Image Credits: Victoria and Vitalina via Behance.
5. Teck
Teck (sometimes styled Tek) is Banksy-esque in his virtual non-existence on American Google. It's almost better that we have so little to go on, though, because it frees the viewer to experience his art without preconceptions. 
His paintings display the kinds of lines and shading that are reminiscent of dreamscapes; they are dark, brooding, but for all that, spiritual. Maybe that's because all of the men in his paintings look like medieval Jesus, and many of them are. According to Code Red, Russia's premiere street art mag, he is striving to create a modern, spiritual abstract art form.
With this kind of originality of vision, we should expect to see much more out of him in the not-too-distant future. 
Image Credits: Teck via Ekosystem.
6. Azo
Is there a more versatile Ukrainian street artist than Azo? His work continues to develop and evolve. Two years ago, his paintings featured creepy humanoids engaged in various struggles and schemes.
Today, his work is more abstract expressionist, taking cues from artists like Kandinsky. This "high art" aesthetic in spray paint is unusual and compelling. While street artists often say the world is their canvas, Azo looks to be interpreting that very literally.
Image Credits: Azo via Facebook.
7. York
York creates compelling pieces that fuse the traditional styles of graffiti with a high abstract expressionist aesthetic. A recent collaboration between York and Teck reveals interesting stylistic sympathies.
York's work shows a clarification of many distinctive influences. He's an up-and-coming street artist, very active in Ukraine and destined to become more influential as his exposure grows. 
Image Credits: York via Ekosystem.
Keep your eyes on these artists. It's voices and visions like these that will continue to shape international art culture — and we can all be thankful for that.