7 Inspiring Books Show All You Can Accomplish by Staying Single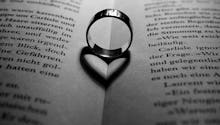 Still snacking on post-Valentine's Day sale candy that you bought for yourself? Don't worry — there are plenty of reasons to be happy about being single: You don't have to buy candy for anyone else in a false display of monetized affection, you can plan your weekends without accommodating another's schedule and you can go to whatever parties you want.
You'll find your comrades in happy and productive single-dom in the great books listed below. Who said literature was all about how whiny, unhappy and lonely people will be whiny and unhappy and lonely? Sometimes being single is exactly what you need — and these books beautifully and unflinchingly portray the reality of what you can accomplish all on your own.
1. You can meet fascinating people.
Image Credit: Wordpress
"One night in the middle of June, three brokenhearted people walked into Buena Vista Park at nearly the same time, just after dark." So starts Chris Adrian's 2011 novel, The Great Night. These three singletons were all headed to normal parties they weren't looking forward to, where they'd be forced to socialize and prove that they were "alright," if still unpaired. Instead, they walk right into a party thrown by the fairies of A Midsummer Night's Dream. 
That's right. Adrian imagines that Shakespeare's Titania and Oberon and their cohort of magical creatures have relocated to the rolling hills of San Francisco, where every year on one summer night (the "Great Night") they the most fantastic party in town. Humans aren't usually invited, but these three lucky singles find their way in, perhaps drawn to the magical aura of the park by their lack of love.
Just goes to show that you can meet the most interesting people when you're on your own. Why be in a relationship when you can party with the fairies?
2. You can finish things you've always wanted to do.
Image Credit: Marie Claire
By the end of the first 50 pages of A. M. Homes's award-winning novel, May We Be Forgiven, an unhappy protagonist, Harold Silver, has (spoiler alert!) lost both his wife and his job. And his lot only gets worse: After his brother bludgeons his sister-in-law to death and lands in a mental institution, Harold is put in charge of his brother's children, pets and estate. He's not entirely free of blame — hence the title — but he certainly also doesn't deserve the terrible deal he gets. 
But by the end of the book, Harold has not only taken on his brother's family as his own, but he's also invited other lonely people into their home. What's more, he finishes writing a biography of President Nixon that he's been working on for ages, and which, during all his married years, he was unable to complete. Sometimes being on your own is all you need to do the things you've always wanted to do.
3. You can fulfill your unbridled ambitions.
Image Credit: Oxonian Review
The first book in Hilary Mantel's historical fictional trilogy about Thomas Cromwell, Wolf Hall chronicles the rapid rise of Cromwell from the child of a poor, abusive family, to the most powerful adviser in Henry VIII's court. In a haunting early chapter, Cromwell's wife Elizabeth dies of the bubonic plague, leaving him single and heart-broken.
But Cromwell is smart and powerful, and soon his bachelorhood becomes an advantage. Though alone, he survives everything — even the disgraceful fall of his first patron, Cardinal Wosley — and eventually becomes the right-hand man to none other than the dear King of England. Now that's what I call making it on your own.
4. You can find yourself in the wilderness.
Image Credit: Collider
"I was living alone in a studio apartment in Minneapolis, separated from my husband and working as a waitress, as low and mixed-up as I'd ever been," Cheryl Strayed writes in her bestselling memoir Wild (soon to be a film starring Reese Witherspoon). Strayed's mother had just died, too, making her feel more alone than ever. And what better to do when you're feeling alone, than to go hiking out into the wilderness — alone?
Anyone who's planned a trip knows how much more difficult things can be when there are two opinions rather than one. The sort of recklessness that allowed Strayed to reclaim her life would only have been possible if she were single, searching for what she calls "radical aloneness."
5. You can follow your dreams (literally).
Image Credit: The Fox Is Black
Toru Okada, the protagonist of Haruki Murakami's strange, hallucinatory masterpiece The Wind-Up Bird Chronicle, is your average middle-aged Japanese nobody. His job is terrible, so he quits; his marriage is failing, so his wife leaves. But being single with nothing to do launches him into the most bizarre and revelatory adventures he (or anyone else, really) has ever experienced.
He solves mysteries by going into his dreams, makes odd acquaintances, meets confessing war vets and even develops a strange blue mark on his chest that has spiritual healing powers. Without a significant other, his life opens up and becomes a gazillion times more interesting than it was.  
6. You can push yourself to make it, against all odds.
Image Credit: Barnes and Noble
"I was left back when I was twelve because I had a baby for my father," Claireece Precious Jones narrates in Sapphire's Push, a novel later made into a film, Precious. The novel is heartbreaking, yes, but hear me out: Precious has got to be one of the most inspiring literary characters of recent times, and she kicks ass all on her own.
Being single is clearly the least of her problems; she's 16, pregnant for the second time with her father's child, practically illiterate and living with an abusive mother who would rather take her welfare money than let her go to school. But she does so much to despite her circumstances that it's staggering: She learns to read and write, gets herself out of her abusive home, births her child and becomes a responsible mother. If there's any single character in contemporary literature to help you believe in yourself, it's Precious.
7. You can devote yourself to helping others.
Image Credit: Ms. Magazine
Ha Jin's latest novel Nanjing Requiem is a historical fiction treatment of the Japanese atrocities in Nanjing during World War II. It distinguishes itself from Iris Chang's groundbreaking nonfiction book, The Rape of Nanking, by following the life of one woman, Minnie Vautrin, an American who stayed in Nanjing on her own through the horror in hopes of saving lives.
Vautrin, in charge of Jingling Women's College (which was turned into a refugee camp), harbored thousands of women during the war. Because of her presence as a foreigner, she was able to save thousands of lives and advocate for many others, at great risk to her own safety.
That's just a little cooler than having a boyfriend.