This Is the Latest, Amazing Cartoon From "Calvin and Hobbes" Creator Bill Watterson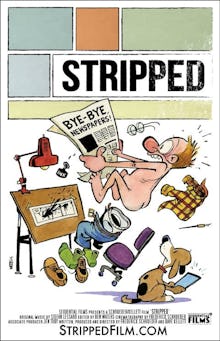 You guys, Bill Watterson drew something new!
Yes, the famous author of Calvin and Hobbes seems to be edging ever-so-slightly out of his self-imposed seclusion and well-deserved peace and quiet, giving us this poster for the upcoming movie Stripped, a "feature documentary on the world's best cartoonists." Any long-time reader of Calvin and Hobbes knows this isn't the first time Watterson's drew a butt or two:
And we even got Bill Watterson's first-ever audio interview, a brief portion of which you can hear in the trailer below. Unfortunately, it appears as though he only agreed to be audiotaped, but it appears he'll play a role in the film regardless.
"In the right hands," Watterson says trailer, "a comic strip attains a beauty and an elegance that really I would put against any other art."
Stripped is a "love-letter" to the art form of cartooning by co-directors Dave Kellet and Fred Schroeder, who conducted 90+ interviews with various luminaries including 70+ prominent cartoonists like Foxtrot's Bill Amend, Garfield's Jim Davis, and Hark! A Vagrant's Kate Beaton. But the real comic lovers will be most thrilled by the appearance of Watterson, whose only recent media interview appeared on the site mental_floss and pretty much confirmed there will never be any new Calvin and Hobbes strips or animated adaptations, ever. So this interview with the creator is the closest you'll get.
Stripped will be available for advance ordering at midnight on March 27, and the DVD will go on sale April 2.